Check out our basic, easy, and fun summer birthday topics and concepts for a party everybody will remember for a long time.
Awesome Summer Birthday kids Party Ideas
Organise a garden party with activities
Summer is the best time to use the garden. Just invite the birthday kid's friends over, and there's plenty you can do to keep them all entertained for a few hours. Maybe you have a wading pool or trampoline at home? If so, now is a great time to put them to good use. If not, why not rent a bounce house?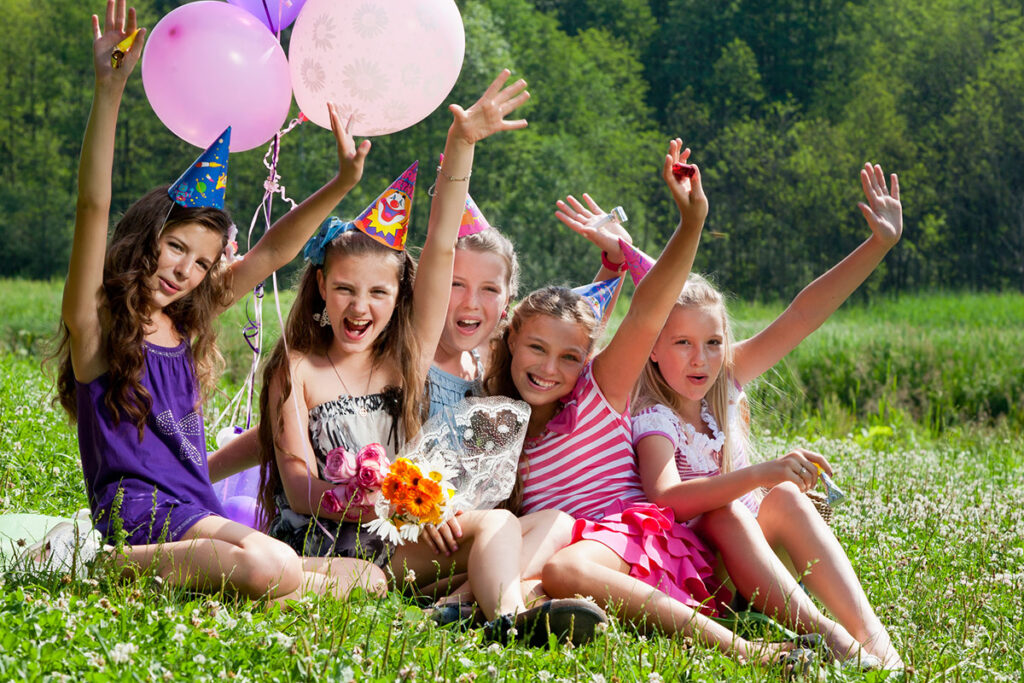 If you rent or use one, do not forget to do all the necessary checks to ensure the safety of the children.. So make sure that all equipment is in working order and firmly attached to the ground (in the case of a trampoline or bouncy castle), and that there are enough adults supervising the children attending the party.
Organise a craft party
You can also organise this party in your garden. Set up a large table with craft materials, similar to a food buffet, but with craft materials. Give them glue, paper, cardboard, paper mache, glitter and paint. The messier the better. Let the children either design their own creative projects or give them instructions to make something specific. This encourages their creativity and helps them to build something with their hands.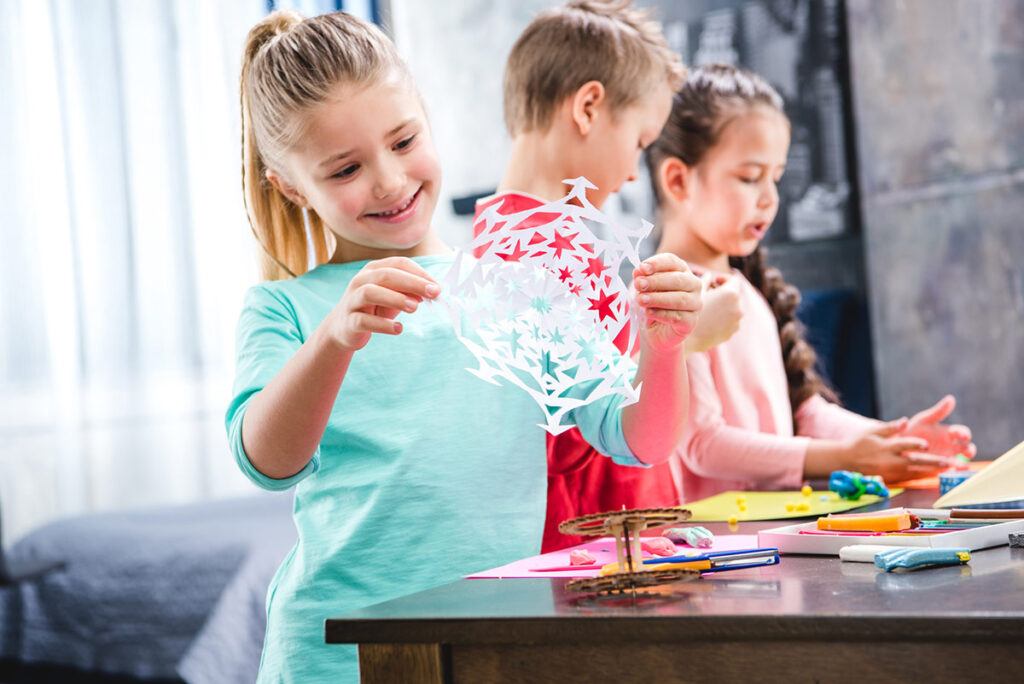 If you want to give them a memorable afternoon, you can provide each child with their own canvas, a few paintbrushes and non-toxic, washable paints so they can unleash their inner artist. You can even let them paint with their fingers, sponges or other objects that they can just dip into the paint. You know they'll love it! Tell parents in advance to dress the children in clothes that can't get dirty, or give them little aprons if you can. Imagine sending each child home with their own masterpiece!
Host a picnic or tea party
Why not find a nice spot in a park, set up a table and organise a great picnic or tea party for the kids?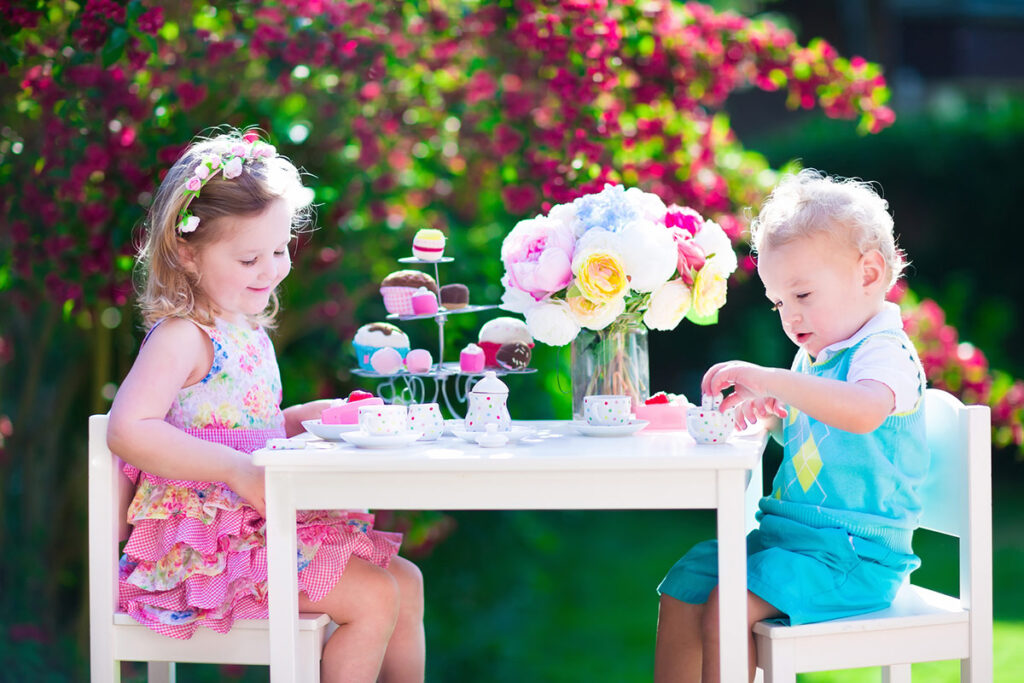 You might need a few helpful adults to carry food and drinks to your spot, but the kids are free to move around and do something they don't often get the chance to do. Put a big plastic tarp, a tablecloth or some picnic blankets on the floor and let the kids play a game of tag or rounders in between.
Have a sports day party
If the weather holds, why not organise a sports day? You can have an afternoon of fun activities, like rounders, hockey, football, or volleyball, and give out little medals at the end. If you have a park near you with free facilities, like goals or tennis or volleyball nets, and you get there early enough, the children will have a blast playing all these fun sports.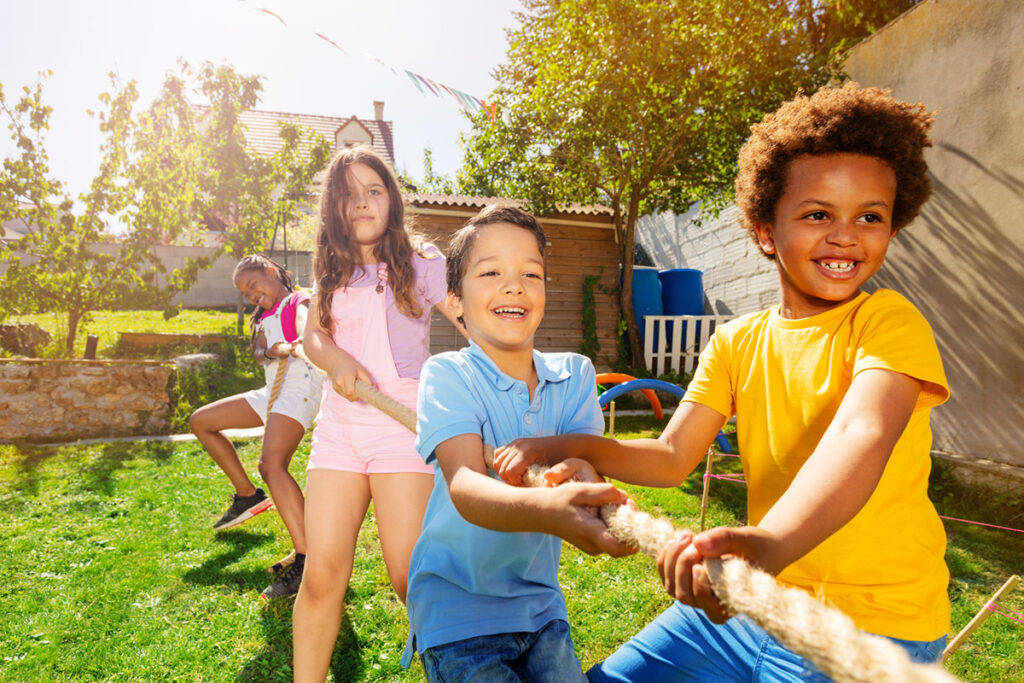 Otherwise, you can always go for some traditional races – egg and spoon, three-legged, or sack races. The parents can get involved too if they want. They could even have their own leaderboard against the children! A word of warning though. Check in advance with the birthday child (and perhaps their close friends) if they're okay for the parents to take part. The last thing you want are sad faces or tears because a child has lost to their paren
Have a water play party
When the weather is hot, there's nothing better than running around in your swimming costume and getting wet with your friends. Whether it's a sponge fight, a water gun fight or a water balloon fight, the name of the game is FUN!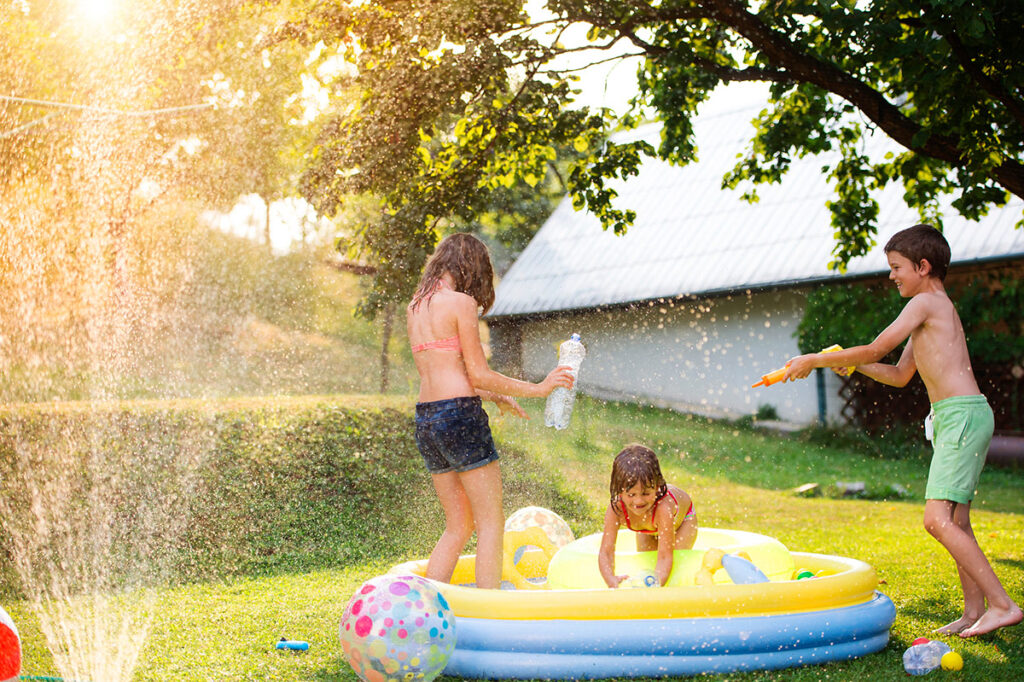 Make a water balloon pinata
While we're on the subject of water, why not invite the kids to make a (wet) version of the ever-popular pinata? Instead of a donkey (or other shape) full of sweets, you can stretch a rope between two branches and set up a long line of pre-filled water balloons. Give the children a plastic bat and let them get started. The person who bursts the most balloons gets a small prize at the end. Of course, the children should have their swimsuits or a change of clothes with them, but you can be sure that they'll have a fun afternoon doing something they've never done before!
Have a swimming pool or canoe party
Do you have an outdoor pool near you that hosts birthday parties? Or maybe there's a local business that organises canoe trips for groups of older children on a local river? If it's age-appropriate, you could even host a raft-building party.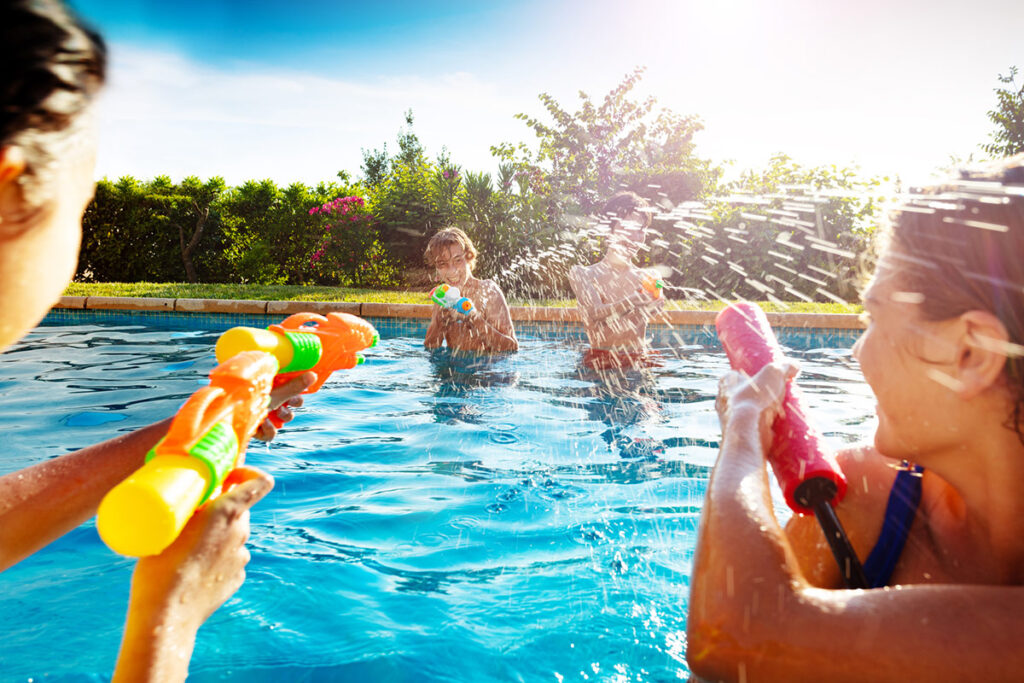 The cost is probably a little higher for this type of party, but the kids are guaranteed to have a great day. They might even learn a new skill or discover a new passion! As always, make sure you (or the company you hire to do the activity) are insured and don't forget to do all the necessary safety and risk checks.
Have a fruit-gathering party
And last but not least: Why don't you take the kids fruit picking? Find a local Pick Your Own farm where you can pick seasonal fruit. Strawberries are always a favorite for obvious reasons. Make sure you've enough adults to supervise the children and then set off with a basket each.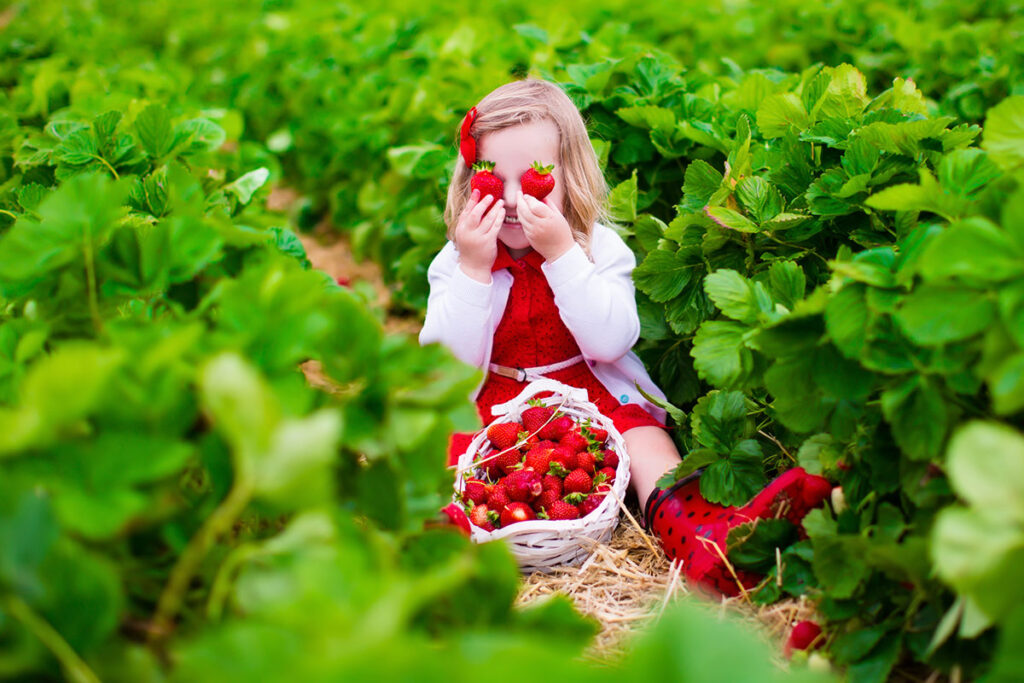 You may need to agree some ground rules at the beginning – for example, that no child can go without an adult. Or you may need to remind the children that the farms don't like you to eat fruit before you pay! Most self-picking farms also have tables or a picnic area where you can gather at the end to cut the cake, blow out some candles, and eat the (deliciously fresh) fruits of your labor!
Have a birthday party with kite flying
When it comes to organising fun outdoor activities for the kids, you can really let your imagination (and inner child) run wild. If you're crafty (or if not, maybe you can ask a parent or friend to help), why not organise a kite making and flying party? Kite-making tutorials are easy to find on the internet – you'll be spoilt for choice on YouTube or Pinterest!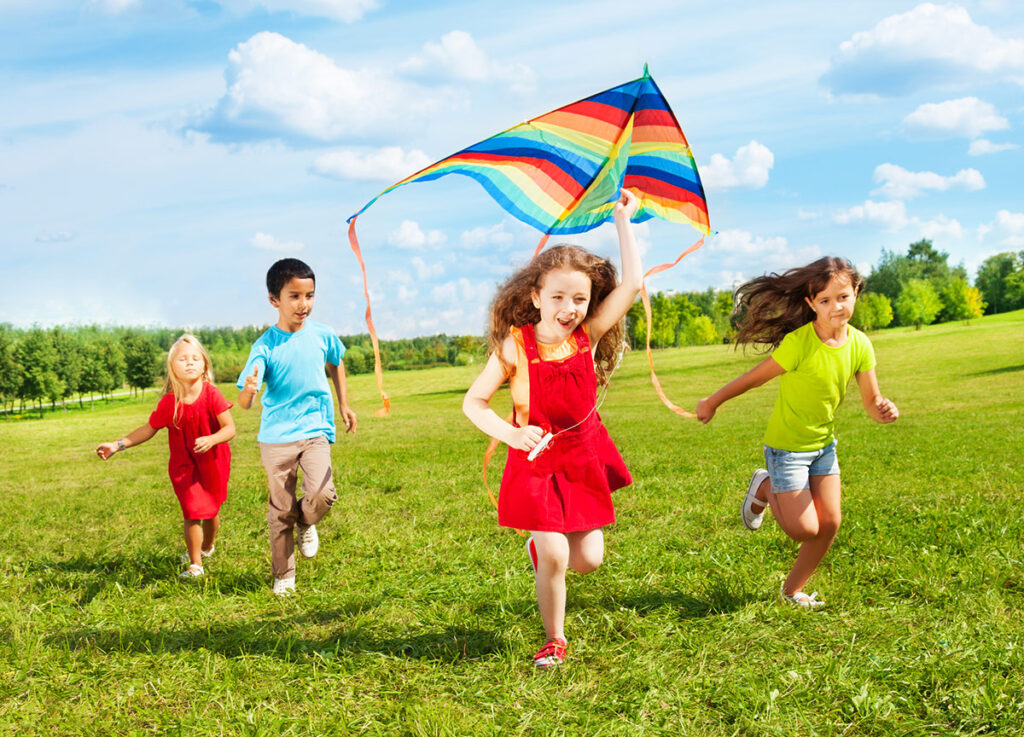 Depending on how many children are attending the party, set up a table with enough sticks, rope, glue and paper for everyone to make their own kite. The youngest ones may need a little help and support with the crafting, but once everyone is done with their creations, you get to let them fly! And hopefully the children will be able to take their own kite home too. This is such a simple activity that we may have all enjoyed when we were little, but our children have probably never experienced!
Have a Superhero Party
Superhero parties never get old. But if you have the added bonus of being able to host the birthday party outside without having to hire a venue, you can keep costs down and let the kids become their favourite superheroes for a day.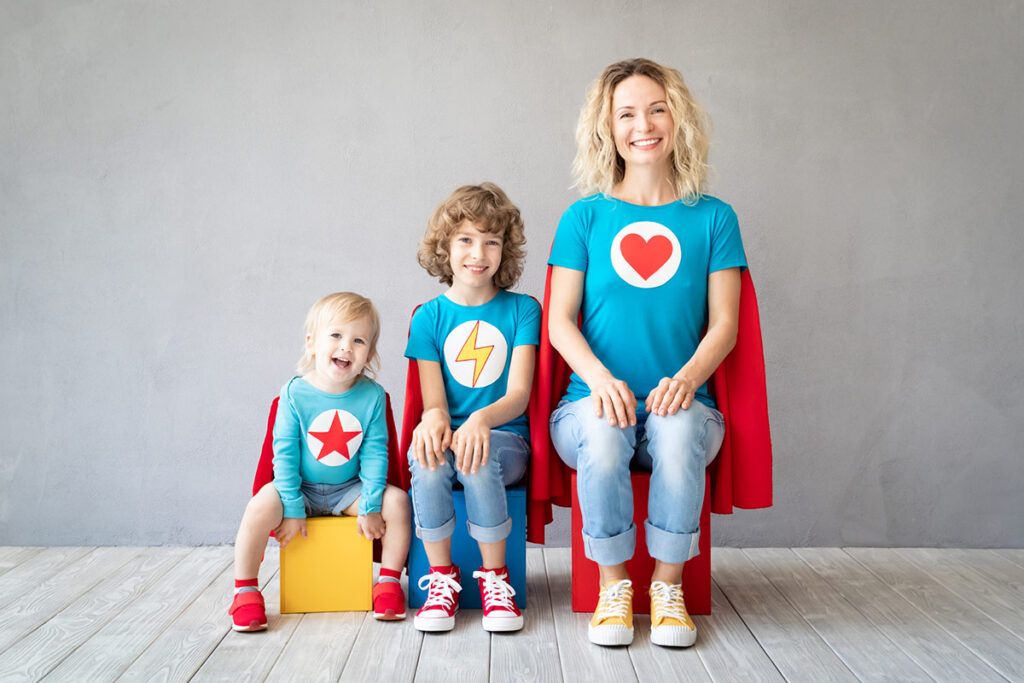 Ask them to come in a superhero costume. If it's too hot for that, you can also dress them up in light capes, masks, or gauntlets. If you're good with a sewing machine (or know someone who's), you can sew them yourself.
Conclusion
The best part of having a summer birthday is that you can take the party outside, cranking up the fun factor to an all-time high. You can throw in water activities or get messy with shaving cream, and not worry about destroying your house