Experience the beauty and tranquility of a honeymoon in the Bahamas.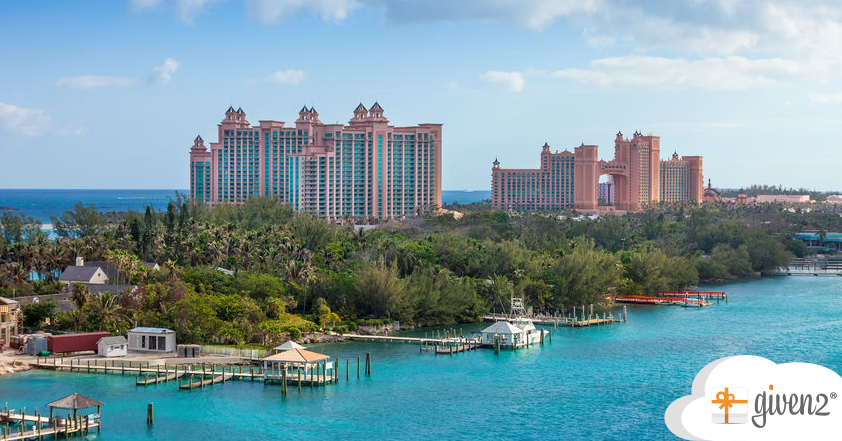 Honeymooning in the Bahamas is like taking a trip to paradise. It's a world full of pristine white beaches and crystal blue waters where you can spend time relaxing and enjoying being together before embarking on the rest of your adventure as a married couple. The Bahamas is one of the most stunningly beautiful countries on the planet. It's spread across 700 islands in the Atlantic Ocean, between Florida on the south east coast of the US, and Cuba; 30 of the islands are inhabited. One of the best things about choosing to honeymoon in the Bahamas is the eclectic range of experiences you can have. You can sample the impressive nightlife, relax on a secluded beach or spend some time enjoying the underwater experience.
Bahamas honeymoon – a guide to your ideal romantic experience
If you are starting out on your married life together, the Bahamas is the perfect place to do it. When you are booking your Bahamas honeymoon, you need to ensure that you have considered all of the details, to make sure you have the awesome experience you are expecting.
How to get all of the experiences you want at an affordable cost
The one thing that you do not want to do is have an honeymoon that is less than amazing. This is why you want to make sure that you include all of the best experiences. One of the best ways of doing this is to use Given2 to create a travel list. This means that people who want to join in with your celebrations, and buy you a gift, can choose to pay for part of your Bahamas honeymoon. This is an ideal choice, especially if you already have everything that you need for your home together.
When should you travel to the Bahamas?
You may not always be able to choose the exact timing of your honeymoon, depending on what you have to consider when planning the date of your wedding; but it does help to know what you can expect from the weather at different times of year.
The months from November to the middle of April tend to be the most popular for honeymooning in the Bahamas. Winter is dry and the temperature ranges from 17°C to 26°C. In spring the weather is moderate and the temperature ranges from 27°C to 28°C. The downside of staying in the Bahamas at these times of year is that there are more people about.
If you want a quieter Bahamas honeymoon, when the two of you get to enjoy more romantic alone time, while strolling along the beach, you should think about travelling in the summer months (May to October). However, the country does get very hot at this time of year, with temperatures from 21°C to 30°C. Thunderstorms are also more likely, especially around the month of June. On the plus side, as well as having more privacy, you may also find the prices are more affordable as this is considered to be the off-season.
What to do on a Bahamas honeymoon
You have to remember that the Bahamas is not just one place; it's a collection of islands that all have something to offer. You can choose to spend time enjoying the vibrancy of life in the country's capital Nassau which is located on New Providence island. It's a place where you can shop for hours, and then relax in one of the trendy bars, sipping a cocktail. You can also choose to cross over the bridge and pay a visit to Paradise Island with its array of water sports facilities, casinos, restaurants and clubs.
If you want to get up close and personal with the local wildlife, you should take time to visit Grand Bahama Island and its national bird, the West Indian Flamingo. This island has a totally different feel to the capital, and its surroundings. You feel as though you have more space to breath and relax. The same feel applies to the Out Islands of the Bahamas where most people enjoy spending time on the beach watching the local pelicans. These islands are also some of the most popular for spending time snorkelling in the clear, calm waters.
No matter which islands you choose to visit, there are plenty of activities to enjoy, to make your honeymoon extra special.
Spending time in the water. Swimming and snorkelling opportunities abound in the Bahamas. There are hundreds of miles of coral reef in the area, as well as some amazing wrecks and caves to explore, if you want to be a little more adventurous. One of the best experiences can be had at Eleuthera/Harbour Island where a graveyard of many different vessels is located offshore.
Enjoying the local cuisine. The food of the Bahamas includes a plethora of local fresh produce, such as mangos, plantanes, papaya and pineapple. It's island location also makes it a prime spot to enjoy some of the best fish dishes you will ever taste, including grouper and kingfish. Bahamian cuisine makes use of plenty of curry, ginger and other spices, so it's truly delicious.
Take to the water on a boat. If swimming and snorkelling is not your thing, a sail on the clear blue waters can be a romantic adventure for you both to share. You can book on one of the local cruises, or charter a yacht for your own private trip. A sail on the water presents the perfect opportunity to spend time relaxing, or you can try learning to sail the boat yourself, for something a little different.
Explore on horseback. One of the most romantic and exhilarating ways to explore the Bahamas is on horseback. You can take your time and enjoy the scenery that surrounds you. This is definitely one of the most memorable Bahamas honeymoon experiences that you can have.
Relax with a spa treatment. Most people want their honeymoon to include a mix of relaxation and exploration. If you choose to spend a morning exploring the beaches, woods and shops, you may want to book yourself in for a massage at one of the country's luxury spas, in the afternoon. There are a multitude of treatments available, and it's an excellent way to spoil yourself as you start your married life.
The main downside of a honeymoon is that it has to come to end; this is why you want to make yours as memorable as possible. Just the fact that you choose a Bahamas honeymoon helps to make this happen. You cannot forget the incredible white sands of the beach or the refreshing blue waters.
How to pay a honeymoon with your wedding
An interesting idea is to ask your guests to pay "portions" of your travel, by using a wedding list specifically devoted to you honeymoon. With Given2 you will be able to arrange your dream journey and then split it in multiple parts each representing a gift, so that every guest will know how to contribute to it!