Have the unique and romantic honeymoon you are looking for in Cuba. It's a colourful, friendly and exotic destination for an incredible start to married life.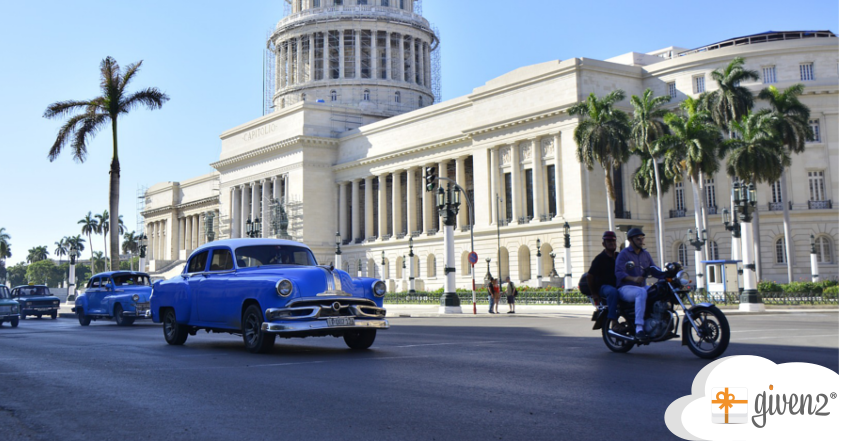 Is a Cuba honeymoon the right choice for you?
Cuba is not a traditional luxury resort experience that you would get in some other countries. It has a different vibe that comes from its communist history. This does not make the country any less appealing as a honeymoon destination. A Cuba honeymoon is ideal for any couple that wants a tropical climate and idyllic beaches but not the off the shelf luxury feel that some honeymoon destinations have.
In Cuba, you can relax on sparkling sands, experience the vibrant local culture or visit UNESCO World Heritage Sites. It's a country that suits couples who enjoy beautiful surroundings with a unique vibe.
Places to visit on your Cuba honeymoon
Cuba is a diverse country that tends to have an attractive air of the past about it. A visit to the capital Havana is a must, but there are several other locations which are perfect for a Cuba honeymoon.
The captivating capital Havana
Havana is one of those places that captures the imagination because it's so unique. Visit this city on a Cuba honeymoon and you can see its history laid out before you, in the myriad of different architectural styles and the slightly ramshackle appearance of many buildings that is strangely enchanting. There are art deco theatres and US cars from the fifties around every corner. The people are relaxed and welcoming and you cannot help but feel at home. This is the place to go if you want to feel part of the community. Every part of the city has a local feel and it's not as affected by tourism as some other world capitals.
The laid back atmosphere of Pinar del Río and Artemisa
If the noise and bustle of Havana gets a little too much, think about spending time in Pinar del Río and Artemisa while you are on your Cuba honeymoon. These provinces are pretty close to the capital but they have a whole different feel. This is provincial Cuba where you can spend time mixing with the locals in a more laid back environment. These provinces are places to really escape the fast pace of life and relax and enjoy the natural beauty of sights such as the Cordillera de Guaniguanico mountain range.
The resort splendour of Varadero
If you want a beach where you can worship the sun on your Cuba honeymoon, Varadero is an excellent choice of destination. It's home to one of the most beautiful white sand beaches you will ever see. It is also home to an ever growing choice of top class hotels. The one downside of the location is the lack of decent nightlife. If you would rather spend your evenings on romantic walks anyway, this is an excellent and affordable honeymoon resort to consider.
The genteel culture of Cienfuegos and Villa Clara
Both Cienfuegos and Villa Clara are regional capitals with their own sense of culture and style. They are not sprawling modern cities with an array of nightlife, but they do have a selection of theatres and cafes where you can spend romantic together time. There are also some picturesque beaches in the area and the surroundings are stunning, especially the Sierra del Escambray mountain range.
Useful information about Cuba
Time zone
The time zone in Cuba is Coordinated Universal Time (UTC) -5. The country adopts daylight saving so you need to take this into consideration.
Currency
There are two separate currencies in Cuba; the Cuban Peso which is used by locals and the Cuban Convertible Peso which is for visitors. You can only get the Cuban Convertible Peso once you have arrived in Cuba.
Weather
Outside of the mountain areas of the country, Cuba has a semitropical or temperate climate. The average minimum temperature that you are likely to experience on your Cuba honeymoon is 21° C (70° F ) and the average maximum temperature is 27° C (81° F ).
Travel documentation
If you decide on a Cuba honeymoon you will need a passport that is valid for at least two months after you travel. You will also need a visa which enables you to visit for up to thirty days. This information is valid for visitors from most countries but you may want to check with the embassy before you travel.
When is the best time for a Cuba honeymoon?
It's important to be aware of the best time to travel to Cuba, so that you can make other wedding plans accordingly. If you want to visit the country at the most appropriate time of year, you should be prepared to travel during winter months. This is because the best time for a Cuba honeymoon is from December to when the rainy season starts. This can be any time between April and June. It's not a good idea to travel to the country in August, September or October as this is hurricane season.
How to make your Cuba honeymoon affordable
Cuba is not the most expensive place to visit anyway, but there are ways that you can make your Cuba honeymoon as affordable as possible. A Cuba honeymoon is an affordable and unique way to start married life together. It's a country that has its own sense of romance which you cannot fail to appreciate.
How to pay a honeymoon with your wedding
An interesting idea is to ask your guests to pay "portions" of your travel, by using a wedding list specifically devoted to you honeymoon. With Given2 you will be able to arrange your dream journey and then split it in multiple parts each representing a gift, so that every guest will know how to contribute to it!