A honeymoon in Greece delivers stunning beaches and top-class cultural sights – as well as some of the best nightlife in the world.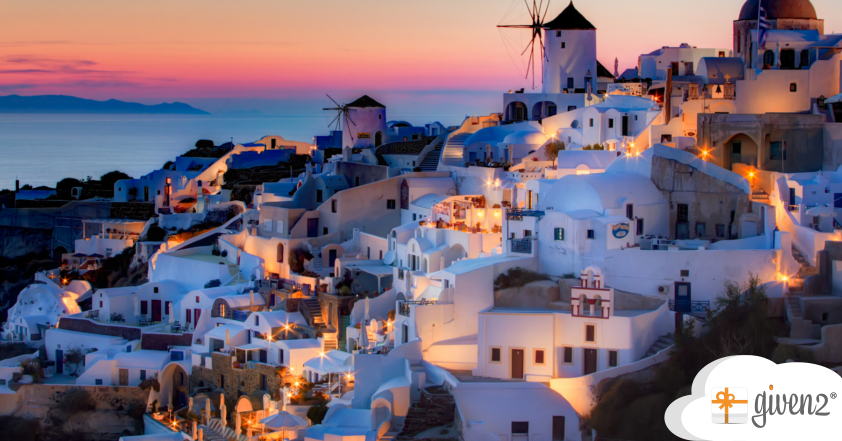 A luxury honeymoon in Greece is up there as one of the all-time classic honeymoon destinations, whether you choose to island hop or soak up the rich culture on the mainland.
Where to visit
Greece attracts over 13 million tourists every year, many of them honeymooners who are drawn to its idyllic beaches, sugar-cube villages, cuisine to die for and centuries of history to revel in. A trip to the land of Gods, Athens, should be at the top of your list if you love history and art. The many breathtaking landmarks, such as The Acropolis and The Parthenon, will keep you entertained throughout your honeymoon in Greece as you channel Eros and Aphrodite.
If you want your honeymoon in Greece to be a more laid-back affair then you have dozens of dazzling islands to choose from. For many, the best islands, and arguably the most beautiful, to honeymoon on are Santorini and Mykonos as they are both packed full of ancient Greek charm and are blessed with miles of golden sand. Young honeymooners enjoy the cosmopolitan gloss and popular nightlife that Mykonos offers and people of all ages will fall head over heels with the stunning views Santorini has to offer.
Must-See Attractions
Mainland Greece
Your honeymoon in Greece should not pass without a visit to the capital city Athens. While The Acropolis, an ancient citadel located high above the city of is the number one tourist attraction in Athens, the city is awash with cultural destinations that will enrich your honeymoon. If you stay on the mainland on your honeymoon in Greece you can head to The Apollo where you can find white sand beaches within a short drive from Athens.
One day Athens Itinerary
– Spend the morning taking in the atmosphere at The Acropolis
– Visit The Parthenon, one of the most significant structures in the world. Built in 440 BC, the architectural features and size of this ancient temple are a must-see, as is the nearby Temple of Poseidon.
– After lunch in one of Athens' top tavernas, drive to nearby Delphi, a beautiful temple constructed around 2,800 years and Olympia (The Temple of Zeus)
Island Life
If you plan on spending your honeymoon on Mykonos, Santorini then you can take things at a slower pace but will still have lots of fun to get your marriage off to a great start. Sports lovers will enjoy all the great opportunities for cycling, swimming, and scuba diving or you can simply spend quality time with one and other lazing on white sand beaches by day and partying in A-list bars and restaurants by night.
If all of this sounds great to you, why not try one of these great itineraries?
Three day Island Itinerary: The Sporty One
Day One: Spend your day with Mykonos Day Tours and Trails and kayak your way around this truly beautiful island
Day Two: After a relaxing morning on the beach, head on an organised boat trip to explore the South Coast of Mykonos and swim in the bluest of seas.
Day Three: After a sunrise boat tour head back to the beach for a spot of windsurfing or paragliding. Finish the day off drinking ouzo in one of the island's trendy bars.
Five-day itinerary: The One that has Everything
Day One: Take the Santorini Cultural Day tour where you can visit places including Argyros Mansion and the black beaches of Kamari village
Day Two: After a day at Red Beach jump onboard a catamaran to explore the island
Day Three: If you need a breather, spend the day by your hotel pool followed by a sunset boat tour that includes a trip to the hot springs
Day Four: Take a tour of Santorini's vineyards and sample traditional Greek wine followed by a trip to ancient Akrotiri
Day Five: Spend the day relaxing and sipping cocktails on Perissa Beach
Tour Guides
While it is fun to plan your own adventures while you are on honeymoon in Greece, there are times when hiring a tour guide for a special trip is beneficial. Professional tour guides are very experienced in what they do meaning your trip to ancient monuments will be so much richer than if you were to plan it on your own.
If you are on a budget ask your hotel to make up a packed lunch for you to take on your day trips or head to local markets to buy cheap food that you can eat as you go or on the beach when you stop for a break.
Greek Culture
Summer months are packed with traditional holiday activities but visit out of season and join the locals in celebrating festivals and parades.
Wherever you decide to visit on your honeymoon in Greece you are sure to eat great food. Local delights include Moussaka, a lamb dish, traditional Greek gyros (the true kebab), dolmades (stuffed vine leaves), and spanakopita ( a delicious cheese and pastry dish). You can expect to drink lots of cold beer and up and coming Greek wine as well as the local aniseed-based tipple ouzo.
Useful Information
If you do not want to hire a car, the most popular tourist destinations in Greece have a good bus network and taxis are easy to find.
Time Zone: GMT +2
Currency: Euro
Best airlines: The average flight from Italy to Greece is 1.5-2 hours and costs approximately 150-300 euros with Aegean Air or Ryan Air
Average hotel costs: 80-200 Euros per night
Weather: Hot weather can be enjoyed from May to September, with July and August the hottest months
Documents needed: EU citizens need a valid passport
If you love the idea of spending your honeymoon in Greece but need a little help in achieving your dream, why not ask your wedding guests to give you euros for your honeymoon! If you need help in paying for your flights and hotel, your local travel agent will have a voucher section in which all if your guests can pay off your holiday for you!
How to pay a honeymoon with your wedding
An interesting idea is to ask your guests to pay "portions" of your travel, by using a wedding list specifically devoted to you honeymoon. With Given2 you will be able to arrange your dream journey and then split it in multiple parts each representing a gift, so that every guest will know how to contribute to it!