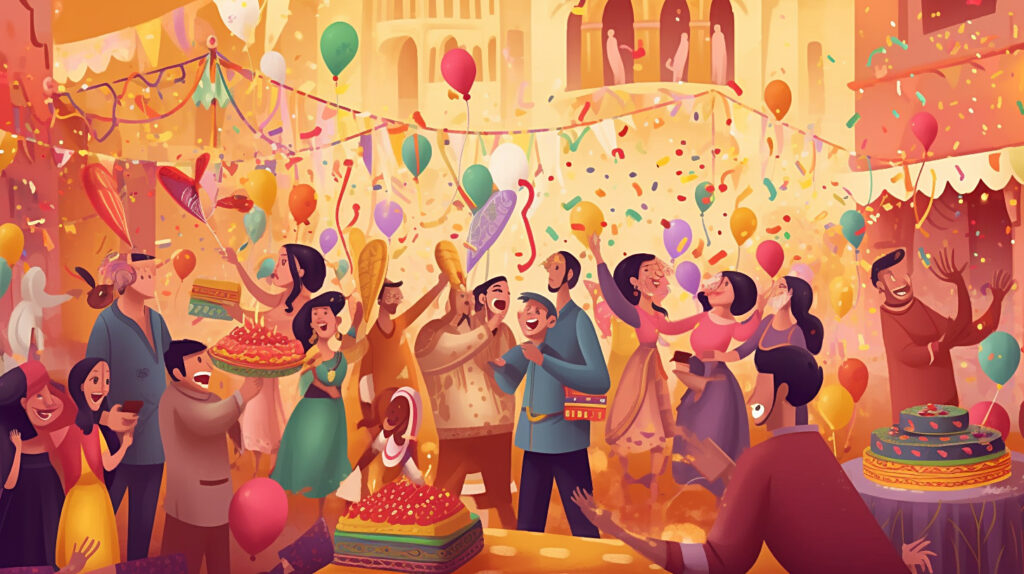 Birthdays are universal celebrations that bring people together, yet the ways we observe these special occasions vary greatly across cultures. Embracing these diverse customs can add a unique and enriching touch to your own birthday celebrations. In this article, we'll explore various cultural birthday traditions from around the world and offer ideas for incorporating these customs into your own parties. Let's embark on a global journey of birthday festivities!
Mexican Piñata Tradition
A popular birthday tradition in Mexico is the piñata, a brightly decorated, hollow container filled with candies and small toys. Party guests take turns trying to break the piñata with a stick while blindfolded, releasing the treats inside. To incorporate this fun and lively tradition into your celebration, choose or create a piñata that represents your child's interests or party theme, and watch the excitement unfold as guests take part in this exhilarating activity.
Dutch Birthday Calendar
In the Netherlands, it's customary for families to maintain a birthday calendar, often displayed in the bathroom, to keep track of friends' and relatives' birthdays. This thoughtful tradition ensures that no one's special day is forgotten. Create a birthday calendar for your own home, and encourage guests to add their birthdays during the party. This simple gesture will help strengthen connections and foster a sense of community among your loved ones.
Chinese Red Envelopes
In Chinese culture, red envelopes containing money are traditionally given as birthday gifts, symbolizing good luck and blessings. The red color is considered auspicious and is thought to ward off evil spirits. To incorporate this tradition, provide small red envelopes for guests to place their gifts or thoughtful notes in, or offer red envelopes as party favors filled with small treats or tokens of appreciation.
Indian Feeding Ceremony
In India, a special feeding ceremony called "Anna Prashan" is often performed on a child's first birthday. The child is fed a mixture of rice, milk, and sugar by their elders, symbolizing the introduction of solid food into their diet. To incorporate this meaningful custom, prepare a special dish that holds cultural or personal significance and invite your child's grandparents or other elders to participate in feeding them a small portion during the celebration.
Ghanaian Morning Ritual
In Ghana, a unique birthday tradition involves waking the birthday celebrant with a special morning ritual. The family sings a birthday song and presents the birthday person with a warm, soapy washcloth and a steaming cup of tea. To incorporate this warm and nurturing custom, surprise your child with a special birthday morning ritual, complete with their favorite breakfast and a loving serenade.
Japanese Longevity Noodles
In Japan, long noodles called "toshikoshi soba" or "longevity noodles" are served on birthdays to symbolize a long and prosperous life. To embrace this tasty tradition, prepare a noodle dish for your child's birthday party and share the significance of the noodles with your guests. This simple yet meaningful gesture can serve as a reminder of the importance of health and well-being in our lives.
Conclusion
By incorporating cultural birthday traditions from around the world into your own celebrations, you can create a unique and enriching experience that honors the diversity of human experiences. These customs not only add an interesting twist to your festivities but also provide an opportunity for you and your guests to learn about different cultures and their unique practices. Encourage conversation and discussion around these traditions, fostering a sense of curiosity and understanding among party attendees.
Whether you choose to adopt one or several of these customs, the key is to approach them with respect and appreciation for their cultural origins. This will help create a birthday celebration that is both entertaining and educational, leaving a lasting impression on your child and their guests. So go ahead and explore the rich tapestry of global birthday traditions, and add a touch of cultural flair to your next party. Happy celebrating!