Warning
: Undefined variable $output in
/var/www/vhosts/given2.com/given2.blog/wp-content/themes/carino/admin/shortcodes/shortcodes.php
on line
55
Warning
: Undefined variable $output in
/var/www/vhosts/given2.com/given2.blog/wp-content/themes/carino/admin/shortcodes/shortcodes.php
on line
55
Japan is a dream honeymoon destination

. Check out What to Visit, Explore, and Eat in a 15 Day Trip

Japan the perfect destination if you're planning a memorable honeymoon or just want a romantic getaway in an exotic location.
When to go
March to April, and September to October are the best periods to visit Japan. In March and April the weather is nice and the cherry blossoms (sakura) bloom. I suggest to avoid traveling during the "golden week", which is around the end of April / beginning of May. Since that period is a major holiday in Japan, and it can get challenging to travel around the country. During September and October, the leaves of the maple trees turn red and yellow offering a breathtaking scenery; June, July and August are the most humid, and rainy months.
Useful Information
Buy online before you go the Japan Rail Pass to get unlimited access to Japan's fast trains. The rail pass is available for 7, 14, or 21 days, and allows you to travel around the country by taking almost all the fast "Shinkansen" trains, except the Nozomi and Mizuho's lines.
Buy an internet data plan once you land in Tokyo. A Sim card valid for two weeks costs around $36, and monthly plans are also available. Having access to the internet is vital in Japan because the Japanese address system can be very challenging to navigate. For example, many streets don't have a name in Tokyo; the address is given with three numbers, one for the chome (i.e., the district), one for the block, and one for the building. Kyoto has a slightly easier address system. But still, since it's so easy to get lost, having a map is of utmost importance for those who don't speak Japanese.
It can be challenging to communicate with Japanese people, because many of them can't speak English. On the other hand, Japanese are really kind and will try to help you in any possible way. Learning a few basic words would be helpful, as would be having internet handy for translations.
What to See
Tokyo
Tokyo offers unlimited options for dining, culture, and shopping to its visitors. The subway is efficient and covers the entire city. To make the most of your stay in Tokyo, plan in advance what you want to see, especially if you have only a few days to visit. Here are some places I advise to visit.
Tokyo – Tsukiji Fish Market is the biggest fish market in the world. The chaotic atmosphere, the seafood, and the workers moving relentlessly contribute to a unique experience. I suggest to visit early in the morning, and have an early lunch at any of the places next to the fish market. The most famous sushi restaurant at Tsukiji Fish Market is Sushi Dai, but keep in mind that the line to eat there can take up to 3-4 hours. Many other sushi places at Tsukiji are also very good and worth checking out.
Tokyo – Sensō-ji located in Asakusa, is Tokyo's oldest temple. It displays a golden image of Kannon, the goddess of mercy. Put some of the smoke at the entrance on your head, it brings luck.
Tokyo – Meiji Jingu is a temple located in Shibuya near Harajuku. It is the Shinto shrine that is dedicated to the deified spirits of Emperor Meiji and his wife. It is not unusual to see some Japanese who get married in this temple, and wear traditional dresses for the ceremony.
Tokyo – Harajuku is Tokyo's fashion district. Takeshita-dori is a narrow street packed with aspiring lolita, gothic, and hip hop teenagers, and all kinds of stores. Walking the streets of Harajuku all the way to the Omotesando subway station, you will encounter many cafes and exclusive boutiques. The walk is a quintessential Tokyo experience for shopping lovers.
Tokyo – Akihabara is the district for electronics and otaku goods (anime, manga etc.). If you like manga you can't miss the Madarake Complex, which offers 8 floors of comic books, DVDs, and manga-related toys.

Tokyo – Shibuya is the party and shopping place for young people, and one of the main Tokyo shopping districts. Take a walk to the famous intersection outside Shibuya Station, known as "the scramble", where people cross on all sides and across the square all at the same time when the lights turn red, creating one of the most memorable human scrambles you'll ever see.
Where to Eat in Tokyo
Dining out at a high-end restaurant in Tokyo without a reservation can be tricky. Yet, you have plenty to choose from even without a reservation, including Izakayas (Japanese pubs usually serving sake and tempura or raw seafood plates), ramen places serving Japanese noodles, sushi restaurants, as well as ethnic food. The best sushi restaurants require a reservation at least 1 week in advance, and most commonly take reservations for the entire month on the first day of the month. If you're staying in a hotel, arrange to have your reservations made by them before you go. For those who can't plan that far ahead, I advise to find a place you like and ask your hotel's staff or Japanese-speaking friend to make a reservation. But seriously, wherever you eat in Tokyo, you will hardly be disappointed! If you end up without a reservation, I suggest to check out the "Ebisu" or "Roppongi" districts, where you can find many good walk-in restaurants. Here are three great restaurants:
Sushi Saito is one of the best sushi in Tokyo. This small and elegant restaurant caters to the finest palates. Every dish here is a masterpiece of creative Japanese cuisine.  Try to reserve a table before your arrive in Tokyo, usually the 1st day of the month.
35 Steps Bistro is a Izakaia in Shibuya offering great dishes and drinks in a fun and friendly atmosphere.

Higashi-Yama is a nice restaurant in Ebisu serving Japanese creative dishes, and is a great place to eat fine Japanese cuisine. You can eat a la carte or choose a fix menu. The elegant and classy atmosphere are ideal for a romantic dinner.
Kyoto
With more than 1,000 temples and stunning gardens, Kyoto is considered one of the most beautiful and traditional Japanese city. It is a stunner, and you'll want to go back.
Here are some places worth visiting.
Kyoto – Fushimi Inari Shrine is an important Shinto shrine dedicated to the gods of rice and sake. It is also famous for its thousand vermilion torii gates that will accompany you to the summit of the mountain. The torii gates running along the entire trail are built using donations by individuals and companies, so that each gate has the donor's name inscribed on it.
Kyoto – Kinkaku-ji Temple, also known as the Golden Pavilion, is a stunning Zen temple whose top two floors are completely covered in gold leaf.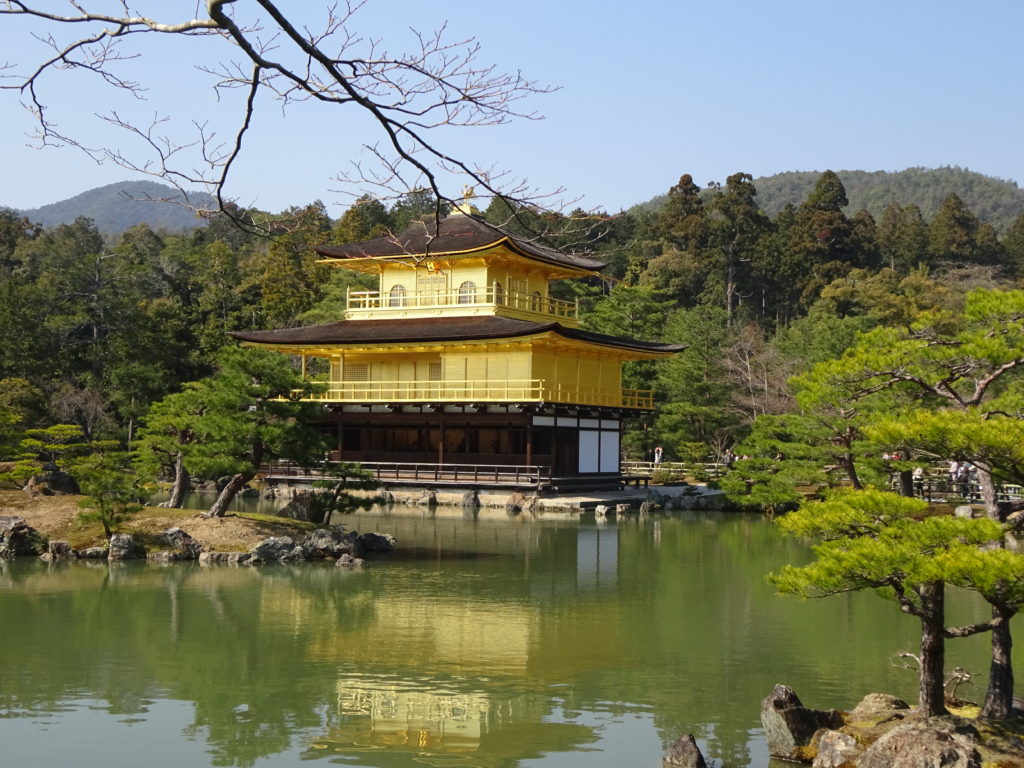 Kyoto – Kiyomizu-dera Temple is best known for its wooden stage. The main entrance has a huge verandah overlooking cherry, maple trees, and the city of Kyoto. At the base of the main hall is the Otowa-no-taki waterfall. Its waters, considered sacred, are divided into three separate streams, each of them bringing a different benefit, such as longevity, success in school and a fortunate love life.
Kyoto – Ginkaku-ji Temple, also know as the Silver Pavilion, takes its name from the fact that the temple's owner intended to cover the pavilion with silver leaf in imitation of the Golden Pavilion built by his grandfather.
Kyoto – Arashiyama Bamboo Grove
If you go to Kyoto you can't miss a stroll along this beautiful place surrounded by green bamboo grooves. Words can't explain how beautiful this place is. Follow the path uphill until you come to a fork, then take a right to visit the beautiful Ōkōchi Sansō villa, the former home of the Japanese actor Denjirō Ōkōchi.

Kyoto – Tenryū-ji built in 1339, this temple was dedicated to Emperor Go-Daigo. The temple was repeatedly destroyed by fires and wars, but the garden has survived intact over the centuries.
Kyoto – Gion is Kyoto's most famous geisha district. It's situated between Sanjo-dori and Gojo dori, and Kawabata-dori and Higashioji-dori. Shimbashi is one of the most beautiful street in Kyoto, and arguably in all of Asia. After sunset it's quite likely to spot a Geisha or Maiko (aspiring Geisha) walking the streets of Gion.
Kyoto – Higashiyama District is the perfect place for an afternoon stroll to check out some traditional stores and take some pictures.

Tip: Rent a kimono to make your experience more entertaining. Many Japanese (and some foreign tourists) wear a kimono during their visit to this area or to Kyoto's temples.
Nara
Nara is famous for the Great Buddha housed in the Daibutsu-den Hall of Today-ji temple. This huge bronze Buddha is one of the largest Buddha images in the world, and it's contained in the largest wood building in the world. Most important sites in Nara are located in Nara-koen, a park that hosts over 1,000 wild deers. Although they're wild animals, Nara's deers are incredibly friendly.
Hiroshima & Miyajima
Though famous for its sad history, today Hiroshima is a vibrant full of young people and with a laid back atmosphere. The Atomic Bomb Dome, still standing despite being the epicenter of the a-bomb explosion, is the first stop in a typical visit to the Peace Park and the Peace Memorial Museum in Hiroshima. These places cannot be missed in a visit to Hiroshima.
Take a stroll in the Peace Memorial Park, and if time permits, hop on the boat to Miyajima island leaving from the Peace Park. In a pleasant one hour ride, the boat will arrive to Miyajima, a lush island reknown for the floating gate, wild dears, and stunning views. Hiking on Miyajima is a pleasant experience, and so is spending a night on the island.
What to Eat in Hiroshima
Hiroshima's most famous treat is the okonomiyaki. This exquisite savory pancake is made by shredded cabbage, noodles, and a variety of ingredients. The best place to get okonomiyaki is "Okonomi Village", a building hosting about 25 different Okonomiyaki restaurants, often consisting only of a few chairs and a large griddle.

Shirakawa-go
Declared a UNESCO world heritage site in 1995, Shirakawa-go is known for the traditional gassho-zukuri farmhouses, some of which are 300 years old. The entire village works hard to keep alive the tradition of these marvelous thatched roof houses. Ogimachi is Shirakawa-go's largest village easily reachable by bus from Kanazawa and Takayama.
The best way to experience the village, however, is to stay overnight at one of the farmhouses, many of which are minshuku (Japanese-style bed and breakfasts). The price range for minshuku is between 7,000 and 10,000 yen/night per person, usually including dinner and breakfast. If you are hungry, have a break at Ochudo, a gassho style restaurant in Ogimachi serving delicious curry rice plate around a large irori table.
Kanazawa
Kanazawa is a beautiful Japanese town somewhat off the beaten path of foreign visitors. The city boasts many historical attractions such as temples, gardens, shrines, a castle, and geisha and samurai districts.
Kanazawa – Kenroku-en Garden is one of the "great three" gardens in Japan, and literally means "Six Attributes Garden", referring to spaciousness, seclusion, antiquity, artificiality, flowing water and  views, which according to Chinese landscape theory are the six essential attributes that make up a perfect garden.
Kanazawa – Kanazawa Castle was one of the largest feudal castles. It was almost destroyed by a fire in 1881 that left only the castle's Ishikawa-mon gate intact.
Kanazawa – Higashi Chaya District is the geisha district. A chaya, which literally means tea-house, is an exclusive type of restaurant where guests are entertained by geishas performing traditional Japanese songs and dances.
Hida
Hida is a nice and quiet city surrounded by mountains in the Takayama area. It's famous for its beef and sake distilleries, taking advantage of the pure water in the area to make some of the best sake in Japan. I highly recommend to stay at Yatsusankan, by far the most beautiful ryokan in Hida. Our room was amazing and huge, and included a private onsen (Japanese hot tub), and "kaiseki-style" meals in a private room.
The ryokan has several public onsens, massage chairs, and lounges, and is surrounded by a beautiful Japanese-style garden. The staff is friendly and helpful. If you have a chance, take a walk in the small town, and stop at the local candle shop where the owners have been making Japanese-style candles for three generations, or try a delightful beef curry or steak at one of the small restaurants in town.
Takayama
Takayama, located in the Gifu prefecture, is one of Japan's best preserved traditional towns. Surruonded by lush vegetation and rice fields, Takayama is best explored by bicycle. This little town is well known for the daily morning markets (asa-chi) where locals sell a range of produce and local crafts. The old town in Takayama is worth a visit for its traditional wooden machiya merchant houses.