Browse our shabby chic weddings inspiration gallery, filled with ideas for the perfect shabby chic wedding. Check out these shabby chic centerpieces, wedding cakes, decorations and more.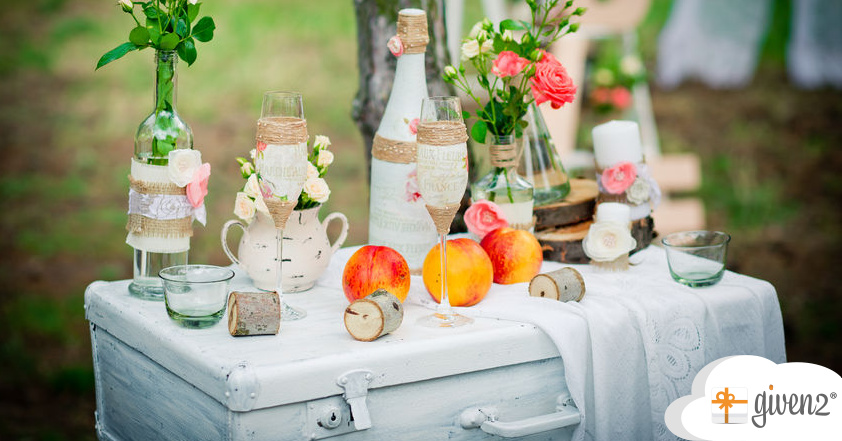 A Shabby chic wedding has become a popular choice for couples who love vintage and romantic wedding ceremonies.
When it comes to shabby chic weddings, the selection of the right decorations is essential. Usually shabby chic wedding decor favors a pastel color palette. The best materials to obtain a shabby chic feel are reclaimed wood and retro decorations, lace and linen fabrics, and wrought iron centerpieces. Let's have a look at the key elements to have a shabby wedding with a twist of glamour.

#1 How to choose the perfect shabby chic wedding venue
Any outdoor venue could work great, and adapt to a shabby chic theme with the right decorations. For example, gardens, and vineyard are perfect locations for a shabby chic wedding.
#2 Shabby chic wedding seating chart
There are many romantic and creative ideas to display your guest list chart. Let's see some example together.
Shabby chic frame
For a shabby chic looking seating chart you can use a vintage frame. Use burlap as background, and embellish the chart with fresh flowers and lace ribbons.

Retro mirror
Vintage mirror is a perfect choice for a shabby chic seating chart.
Romantic aviary photo cage
What does speak more romantic than having a bird cage seating chart? This charming, aged metal birdcage is the perfect place to clip your guests' name. Decor the cage with some fresh flowers, and greenery.
Reclaimed wood window
An old window can turn into an effective shabby chic seating chart. This option is getting very popular, and is also environment friendly. Simply recycle an old window, and list the names using a white pen. Adorn the window using fresh flowers, branches and lace.
Old door
For a retro wedding feel, transform an old wooded door in an effective seating chart by hanging each escort card with a key.
#3 Shabby chic centerpieces
White linen tablecloths with lace inserts and lace doilies placed as place mate bring a sophisticated touch to the wedding table, while burlap runner add the shabby feel.

Wrought iron lanterns
Lanterns filled with pillar candles or flowers set a romantic shabby chic atmosphere.
Vintage china
Use your grandma's china to create original centerpieces. As an alternative, get some vintage china at thrift stores, or flee markets, and have fun creating china towers covered with flowers.
Romantic candle holders
Use vintage candle holders to add drama to your wedding table.
Mason jars decorated with burlap and ribbon lace could became elegant candle holders.
Shabby chic vassels and jars

Water pitchers filled with peonies, painted mason jars, and vintage tea pots are trendy and stylish shabby chic flowers holders.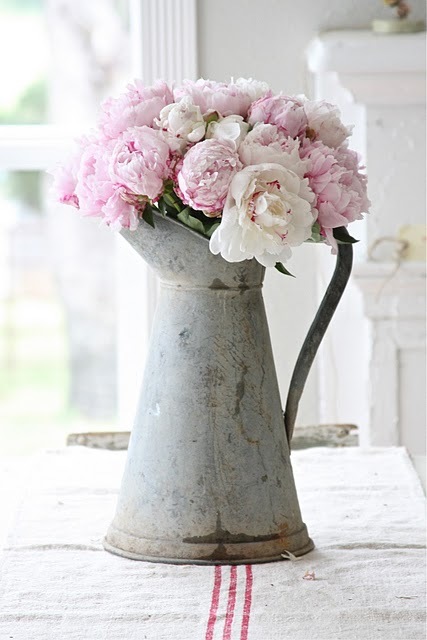 Do you like knitting and DIY projects? Lace knit cover jars will add a touch of handmade to your reception tables.
Cake stands
Looking for something of more romantic and original? An outstanding option is display cake stands filled by fresh flowers, greenery and candles
#4 Wedding cake
A great shabby chic wedding cake idea is a three-tiered hand-painted vintage rose decorated with fresh flowers and leaves.
A romantic alternative is a wedding cake with ruffled layers and a top-tier decorated with sugar flowers.
Nothing speaks more romantic than lace sugar veils wrapped around the mid-tiers, and decorated with peachy flowers.
Naked cakes are a perfect choice for shabby chic weddings. Instead of frosting the outside of the cake with buttercream, the new trend is to leave layers exposed. Usually bakers garnish the layers using natural elements such as fresh flowers, branches and fruits.
Here you'll find some more wedding cake options.
#5 Shabby chic wedding dress
Stylish lace wedding dresses are ideal for shabby chic wedding ceremonies. White, ivory and blush wedding dresses are perfect for a retro wedding style.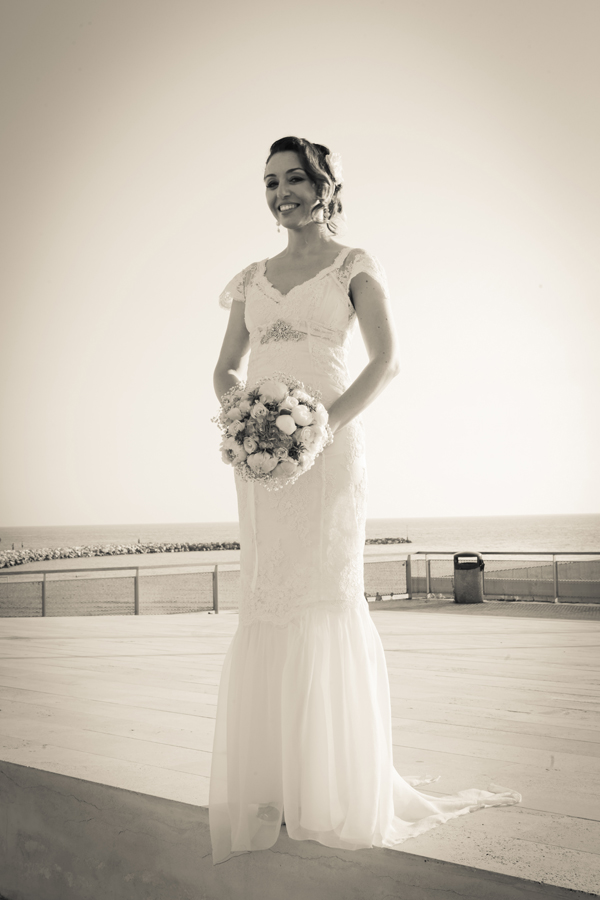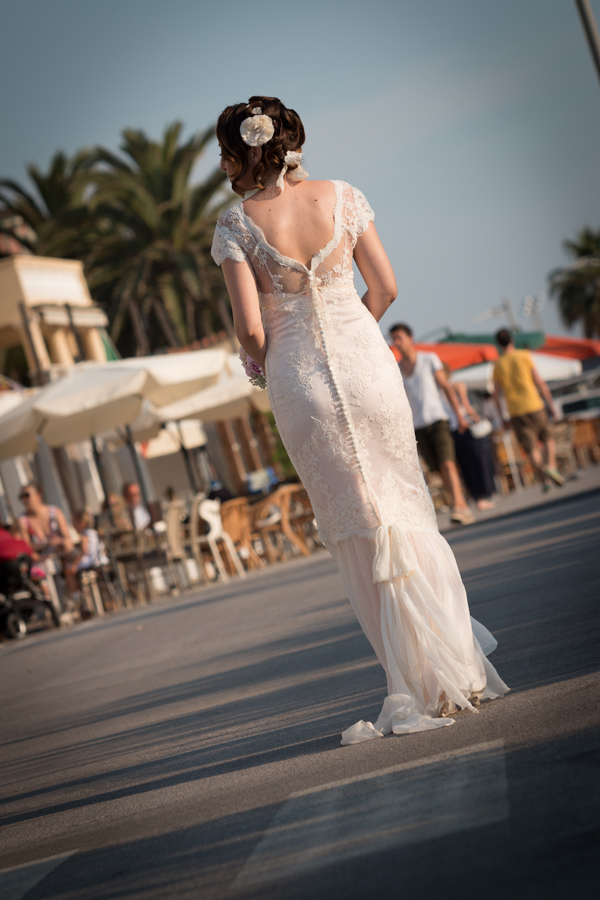 Lace is not really your thing? A long soft tulle gown with lace embroidery is a great option.
Choose your hairstyle before you pick your accessory. If you're leaving your hair down, consider a floral crown to add a touch of drama. As an alternative, add some fresh flowers to your chignon or retro jewels.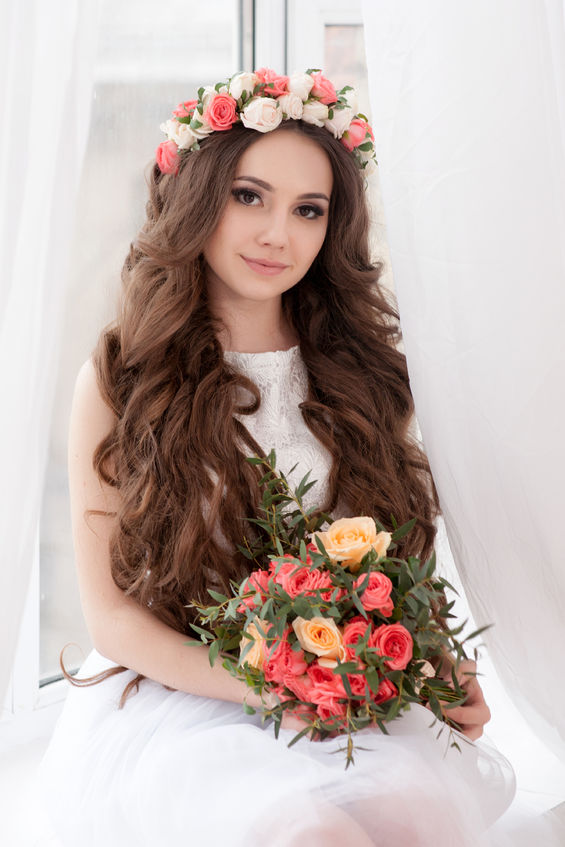 Any of these wedding favor ideas strike your imagination? What are you giving your guests? We'd love to hear from you!