How to choose the perfect wedding bouquet? Get inspired by the meaning of every flower!
mixed bouquet

beige rose bouquet

orange bouquet

white bouquet

mixed bouquet

violet bouquet
In every culture, the flowers used in the wedding bouquet have become the symbol of a great emotion; this is why it is important to know the message we convey by choosing the flowers.
Have you ever thought about choosing your bouquet based on your personality? If you like this idea, let's see together the meaning of every flower in order to realise which flower composition best represents you.
But first… a little bit of history!
The wedding bouquet tradition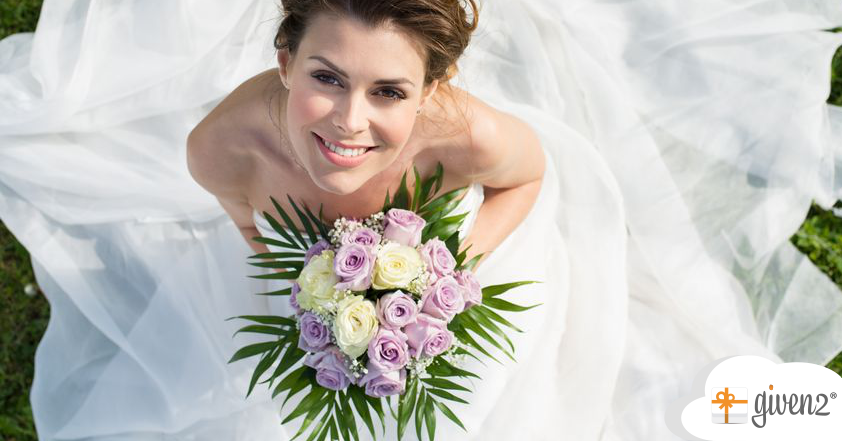 The wedding bouquet has ancient origins and every population over time ascribed different values and meanings to it (most of them linked to prosperity and abundance). In fact, back in the pre-Christian period, the bouquet consisted in just a little bunch of scented grasses and garlic, and was intended to drive the evil spirits away and protect the newlyweds.
Afterward the flowers were added as a symbol of bridal purity and chastity; during the Middle Ages, flowers were woven with a needle and a thread as a representation of the female duties of the time.
The actual origins of the wedding bouquet are ascribed to the Arab world. In those areas, brides had their heads decorated with orange flowers; in the 15th century, due to the Arab invasions, such tradition was extended to the European brides. Orange flowers represented the inner purity of the young brides.
Moreover, the tradition of the wedding bouquet subsumes the seal of the engagement and the beginning of a new life together. It is a gift done by the future husband to his partner, delivered early in the morning of the big day.
At the end of the ceremony, the bride usually throws her bouquet. According to tradition, the bride should throw it over her shoulders towards her single friends. This because it is thought that the person who catches it will be the next one to get married. Above tradition, the wedding bouquet has to be pertinent to the wedding theme, and even more with the wedding dress.
After a research on the meaning of the main flowers used in the bouquets and the emotions they convey, we have created 5 photo albums; everyone matches a different personality. Which one is your favourite? Tell us in the comment section!
Wedding bouquet with calla lilies for the vain bride
calla lily bouquet

pink calla lily bouquet

calla lily and rose bouquet

white calla lily bouquet

calla lily bouquet

mixed calla lily bouquet
If you think you fall in this category and you'd like to have an elegant wedding bouquet, the perfect choice for you is the calla lily bouquet.
Calla lilies are the flowers brides choose the most. They represent purity and bloom during spring, between April and May.
As regards colours, you can find several different choices: pink, yellow, violet, orange and even black. If you don't want a unicolour bouquet, you can choose to pair white calla lilies with blue, yellow or white roses, or, alternatively, with Swarovski and hydrangeas.
This flower has a strong symbolic meaning. Its name, "calla", comes from Ancient Greek "kallos", which means "beautiful". In fact, in the past it represented beauty, nobility and refinement, to the point that even the goddess Venus envied its beauty.
At a later stage, this flower began to represent the Liberty style.
With respect to the coupling, if you choose a calla bouquet you can play with many colours and combinations. First of all, you can choose to realise a traditional Calla Bouquet or a cascading one. Then, you can choose to add blue, yellow or white roses, or Swarovski and hydrangeas… you name it!
Wedding bouquet with peonies for the devoted bride
white peony bouquet

violet peony bouquet

mixed peony bouquet

pink peony bouquet

mixed peony bouquet

mixed peony bouquet
Symbol of love, affection, kindness and prosperity: the peony is a very chic flower that is often associated to devoted brides.
According to the Chinese art of feng-shui, in fact, peonies are believed to balance the contraries present in every couple, starting with the opposition male/female. In western countries, during the Renaissance, the peony was symbol of a love that had no obstacles: "the thornless rose".
Peonies have an abundant blooming which goes from yellow to intense red, by way of white and light pink. Choosing this flower, even in combination with others, can be a real ace in the hole, because it is suitable for a wide range of combinations, like for example with tulips, roses, orchids, and hydrangeas.
In recent days the trend is to realise a monochromatic peony bouquet. This highlights the beauty of the flower and adds a more elegant touch than a mix of more colours.
Going from the traditional formal reception to a vintage or shabby chic ceremony, peony is perfect to ornate your wedding bouquet and it's ideal both with a lace wedding dress or a wide dress in chiffon.
The peony is much used for ceremonies taking place in springtime, since it blooms between May and June. Its only flaw? The price, which can even reach 18-20 € each.
Wedding bouquet with tulips for the original bride
orange tulip bouquet

violet and white tulip bouquet

multicolour tulip bouquet

yellow tulip bouquet

white tulip bouquet

multicolour tulip bouquet
If you're looking for something more original which helps you stand out, then the ideal flower for your bouquet is the tulip, symbol of perfect love.
They say tulips were originally created from the blood drops of a boy who committed suicide in the name of love. This is why they are associated to perfect and unselfish love, even more than roses! Isn't it romantic?
Tulips can be of any colour you like, and they are often used in autumn or spring. The wedding bouquet can be composed of tulips in different colours. If you prefer to use just one colour, white tulips look really enchanting in a wedding bouquet, so simple and yet so classy!
These beautiful flowers must be carefully handled and fixed during the realisation of the bouquet, since they tend to wilt due to the heavy weight of the petals. They need a simple wrapping, which must be easy to handle and rigid enough to keep the flowers upright during the ceremony.
As regards coupling, here are some suggestions:
1) A nice orange in line with the shabby chic style, perhaps with a ribbon of the same colour. It will give your guests the impression it came just on time from Holland.
2) A bouquet of light pink tulips is adorable: simple and romantic. It should be a very light and delicate pink, to successfully match the white of your wedding dress!
3) Yellow is a very peculiar colour: either you like or you don't. Yet, it's very sunny and fun. A wedding bouquet with yellow tulips can look great, since it's vivid but not too strong. Why not?!
4)  Red is the colour of love, but it's also a very strong colour. Many brides these days choose to get married in red, even if it's quite an original choice. If you like the colour but think that for a dress it would be way too much, you can put a bit of red in your wedding bouquet! Red tulips and white dress, maybe even a red lipstick, and you'll surely be the protagonist of your big day! 😉
5) If you'd like to add a little bit of violet to your wedding outfit, you can try a bouquet of purple tulips, mixing them with some white to mitigate the colour.
Wedding bouquet with orchids for the sexy bride
white orchid bouquet

white orchid bouquet

mixed orchid bouquet

mixed orchid bouquet

pink orchid bouquet

white orchid bouquet
If you want to feel sexy, then your wedding bouquet should have orchids in it. Orchids represent love in all its shades, even passion and sensuality. This flower has a particular Asian charm and comes in many colours, going from white to strong pink.
Orchid is a tropical flower, and according to Asian culture is symbol of perfection because of its perfectly symmetrical petals. In western countries it represents love; they say that in the past witches and wizards used to put this ingredient in their love potions.
Blooming may vary depending on the species, but today you can find orchids in every season of the year.
As regards their usage in wedding bouquets, different species of orchids may be best for different compositions and shapes. For example, Phalaenopsis orchids, with large and flat petals, are perfect for cascading bouquets. You can also combine them with ivy, which represents loyalty.
Another idea involves Cymbidium orchids, which are very small. They can be used in a round wedding bouquet. In this case, the best colour would be white.
Lastly, you may want to pair orchids with roses. The result will surprise you, I promise!
Wedding bouquet with roses for the romantic and refined bride
red rose bouquet

pink rose bouquet

mixed rose bouquet

white rose bouquet

mixed rose bouquet

mixed rose bouquet
If you are a very romantic bride, then you might want to have a wedding bouquet made of roses. Rest assured! This evergreen never goes out of fashion.
The meaning of roses varies based on their colours. The most popular are red, symbolising passion, white, representing platonic love, and pink, associated to affection.
If you want your bouquet to be more original, you can choose blue roses; they represent wisdom. Otherwise there's also yellow, expressing joy and vivacity, or coral red, for desire.
There are about 150 varieties of roses, and their blooming periods are different: some roses bloom once per year, some others several times. Usually the blooming months are May/June and in autumn, even if nowadays you can easily find them all year round.
You can pair them with pink peonies or with green ivy, in order to play with colours. Your result will nevertheless be elegant and chic.
The most recent trend in the field of wedding bouquets is to use red roses. For example, you can create a round bouquet with red roses, Swarovski and romantic lilies of the valley.
If you want to dare more, you can choose blue roses, decorated with a white satin ribbon.
If you still can't make up your mind, try and choose your wedding bouquet depending on the season of you wedding!
Every season has its flowers: choose your wedding bouquet based on the month!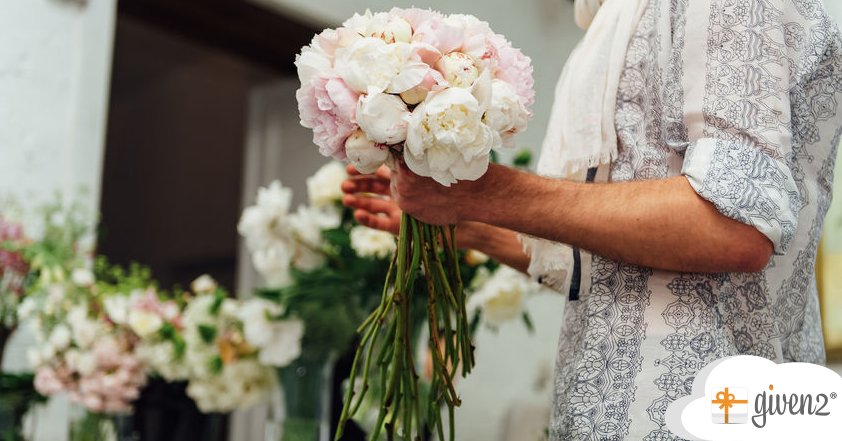 There are a lot of options to create an original wedding bouquet and to have it simple, but also chic. You only need to know which kinds of flowers will bloom in your wedding season. Based on that, you'll have plenty of choices and will also be able to cut down the total budget!
Autumn bouquet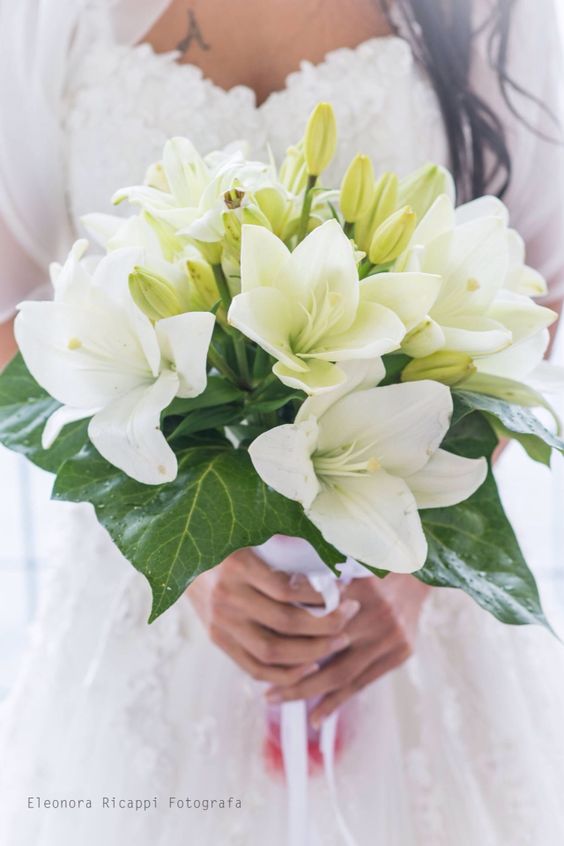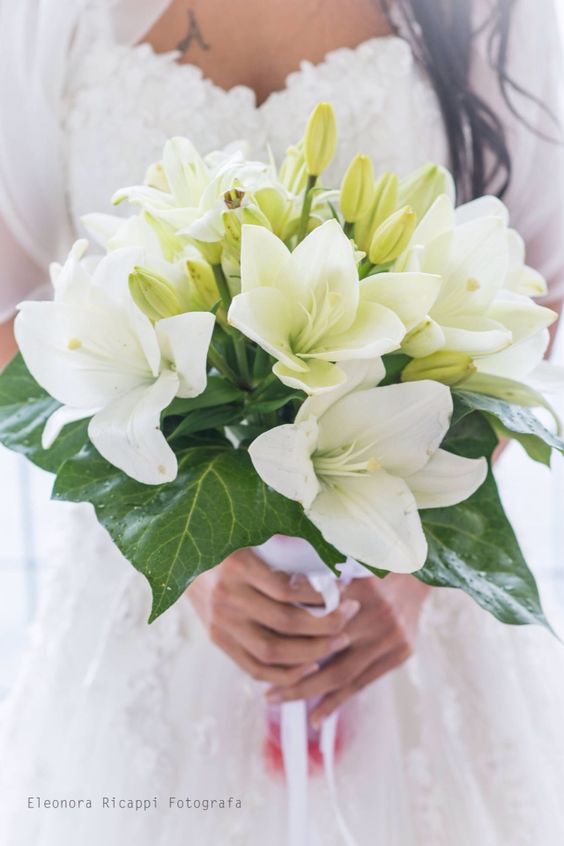 If you love roses, don't worry: they keep blooming also in autumn, alongside a bunch of other beautiful flower species. If you are going to get married in September, October or November, then we suggest you to add to your flower bouquet also berries and autumnal leaves, in order to add a bit of originality.
September: you can find several types of hyacinths, orchids, irises, freesias, snapdragons, and hydrangeas.
October: Lilies are perfect for an October wedding. If you like small and delicate flowers, I suggest you to pick orchids or lilies of the valley. Otherwise, roses, hydrangeas, callas, magnolias, snapdragons, carnations, and the very particular Queen Anne's lace!
November: In November you have roses, snapdragons, hydrangeas, carnations, and again: peonies, dahlias and Peruvian lilies. Moreover, you can find larkspurs and the very delicate hoary stocks.
Winter bouquet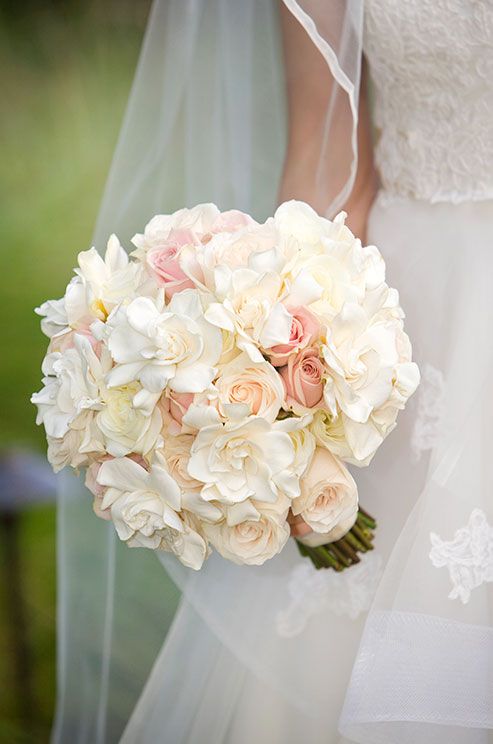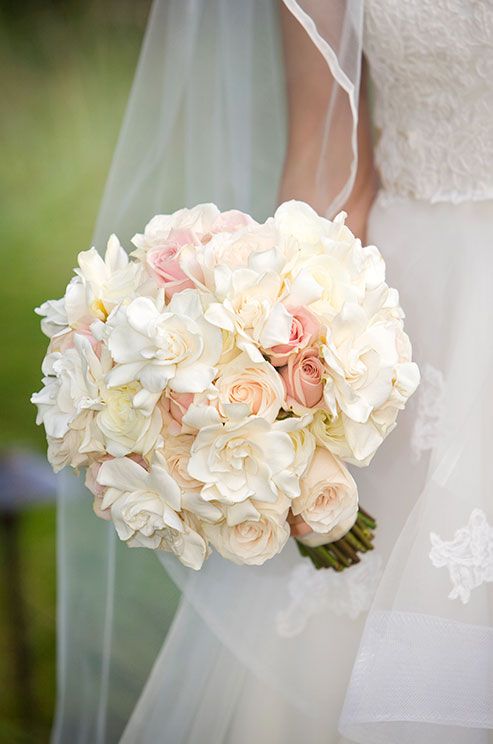 Some couples love to arrange their wedding in winter, so they can use a winter or Christmas leitmotiv! Of course, the bouquet has to be carefully chosen in order to be appropriate to the subject, this is why we suggest a white bouquet, pure and candid like the snow.
December: You can find roses even in the coldest season of the year! As for callas, carnations, and gerberas. Even though in winter you have other options open, like for example Madagascar jasmines (stephanotis), or hydrangeas, poppies, several types of chrysanthemum, and anemones.
January: in January you have dahlias, snapdragons, roses, gerberas, ranunculi, liatris spicata or lisianthus.
February: You can opt for calla lilies, alstrœmères, gerberas, hydrangeas, magnolias or lisianthus. Furthermore, it's easy to find lilium, delphinium and larkspur, which is a Californian flower.
Winter wedding Flower Ideas: White bouquets
White flowers are a romantic and elegant choice during the cold season. As an alternative, ivory and off-white flowers create a classic and sophisticate effect perfect for winter weddings. Gardenias, narcissus paperwhite, lilies, orchids, roses, star of Bethlehem, stephanotis, and gypsophila are some of the best white flowers available during the winter season.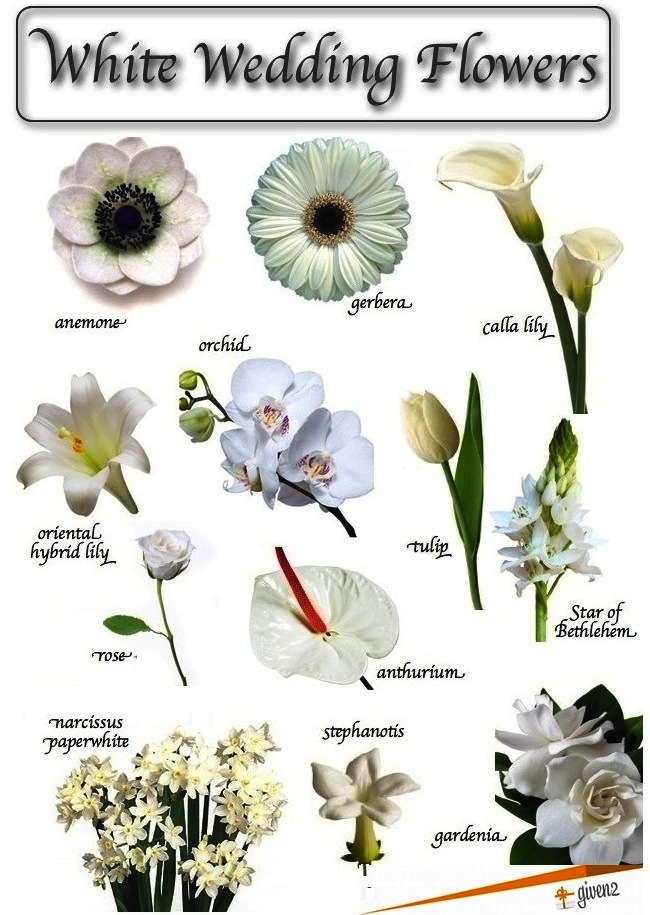 Winter Wedding Flower Ideas: Red bouquets
Red is really popular during the winter season, and gives an elengant touch to your wedding. Amemones, camellias, amaryllis, carnations, gerberas, ranunculus, roses, hypericum berries, and tulips, are the best red flowers available in the winter.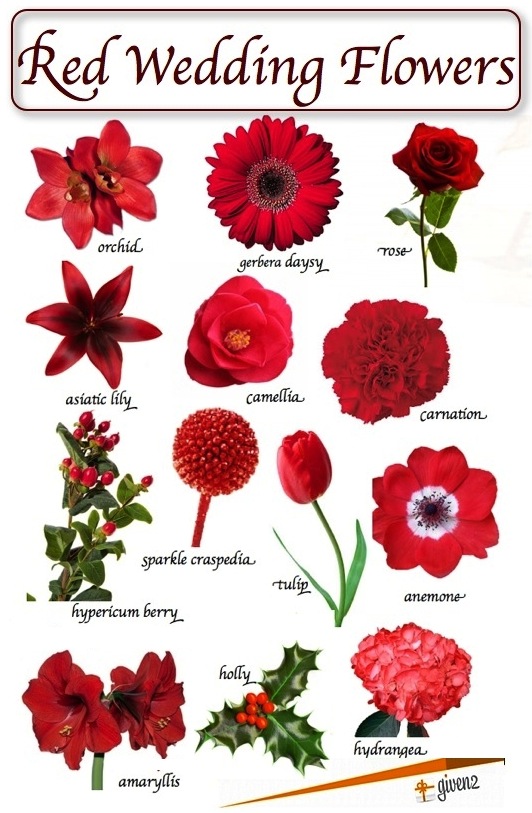 Winter wedding flower Ideas: Angela Austin's creations
To get inspired about winter bouquets, I'm thrilled to introduce Angela Austin to share with us her unique creations. Angela Austin is a Idaho-based  floral designer specializing in classy, and stylish flower arrangements for weddings and special events.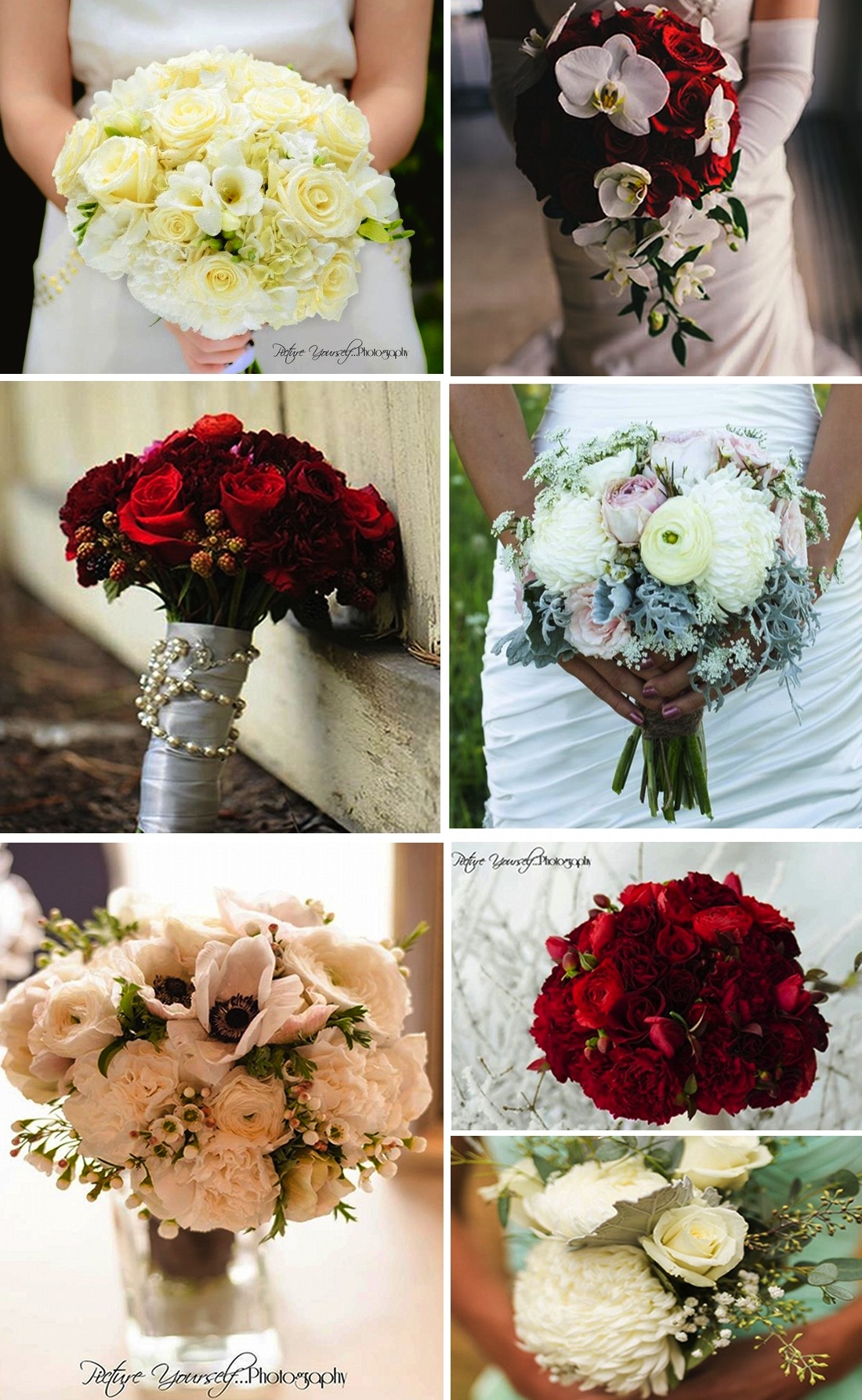 Images: Angela Austin / angelaaustinfloraldesign.com
Incorporating pieces of jewelry such as gems, pearls, brooches, and necklaces into a bouquet is becoming more and more popular. Using a Grandmother's brooch, and family heirlooms is also a nice way to celebrate the loved ones, and make winter bouquets unique and glamor.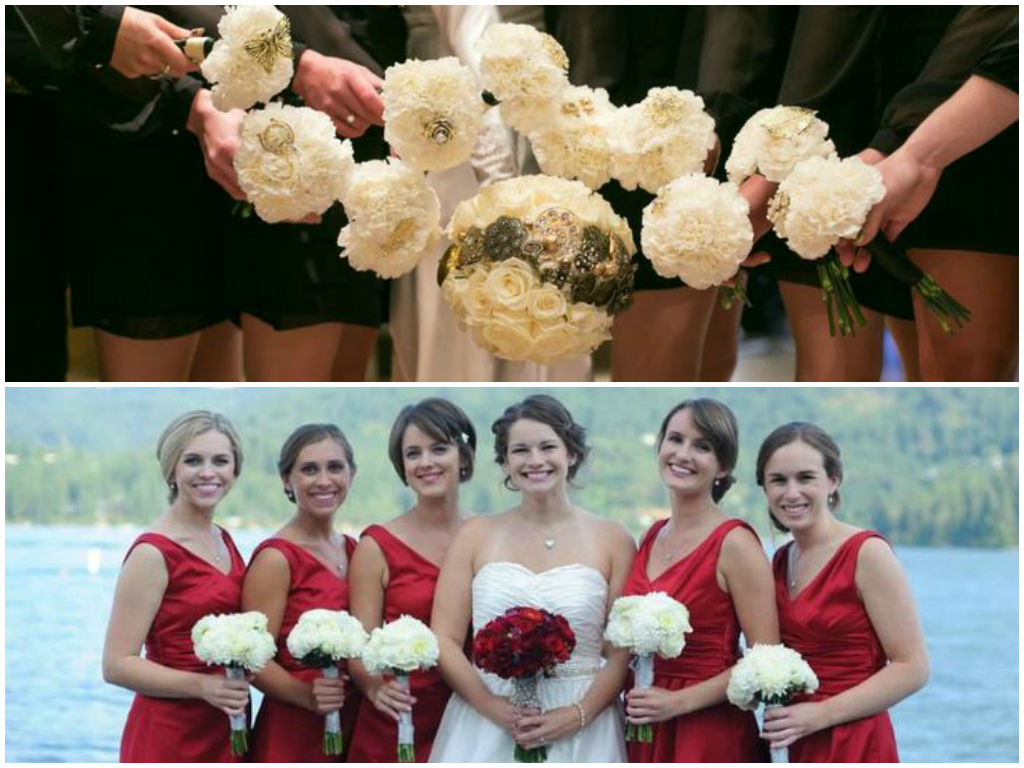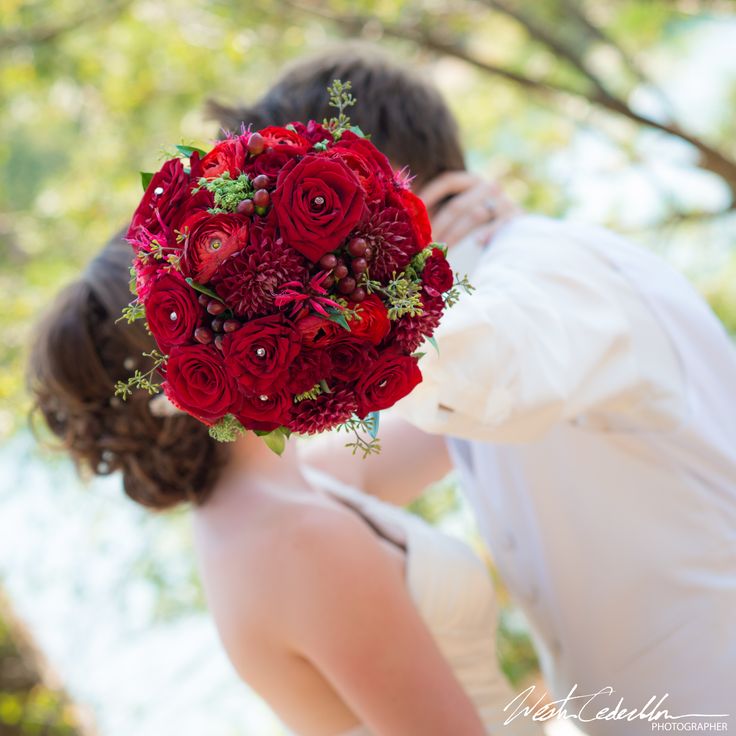 Images: Angela Austin / angelaaustinfloraldesign.com
Spring bouquet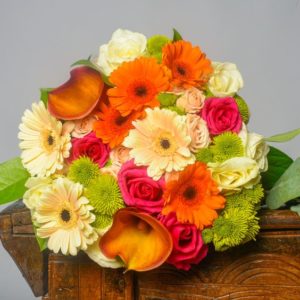 Everyone knows it: spring is the flower blooming season. Trees are in bloom and gardens are full of colours. Moreover, the sun shines and the weather is just fine to get married!
March: this is the month of gerberas, irises, tulips, cornflowers and freesias.
April: perfect for sunflowers, orchids, roses, peonies and snapdragons. Even better for gerberas and tulips.
May: Peonies, roses, tulips, snapdragons, gerberas and freesias are wonderful in May. Alongside lisianthus and lilies.
Summer bouquet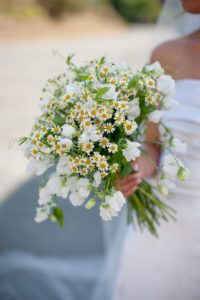 Summer is also a very appropriate season to get married. Plus, several flowers are available in summer!
June: Sunflowers, peonies, roses, orchids and gerberas boss around! Nevertheless, you can also find narcissi, daisies, lilies or callas. June bonus: lavender. Its flowers are lovely scented and their colour is beautiful: they are absolutely worth a bouquet! You can think about match lavender with roses or ears of wheat.
July: In July brides can enrich their wedding bouquets with colourful zinnias, beautiful gladioli, dahlias or carnations. Another flower not often taken into consideration, when it comes to weddings, the chrysanthemum, which blooms precisely in this period.
August: As for the other summer months, we have roses, narcissi, snapdragons, zinnias, gerberas, chrysanthemums, lilies, carnations and, of course, sunflowers.
Well, I think now you have enough ideas to get inspiration from, and you can finally choose how to realise your personal wedding bouquet! Now you only have to choose the shape of your bouquet, and then is all done 🙂