Plenty of ideas sorted by theme for your Wedding Centerpiece. Candles, Flowers, Minimal, Vintage, Creative, Shabby chic, Eco-friendly, Low-cost.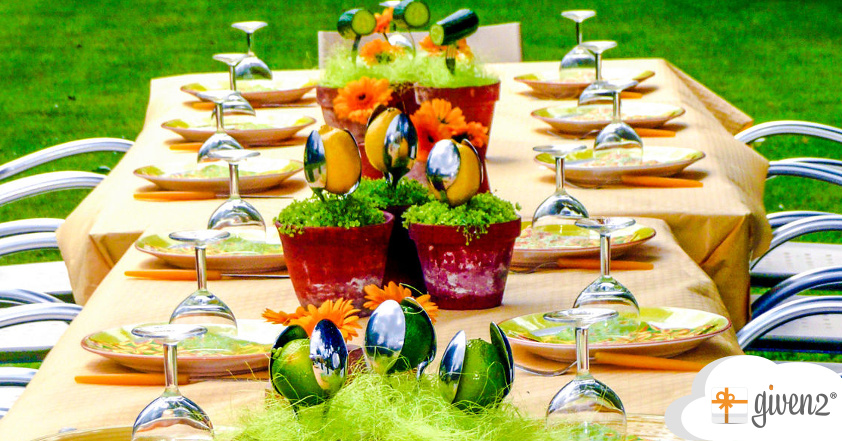 The wedding centerpiece has a strategic position that is, of course, at the centre of the wedding tables, so that every guest is able to enjoy its beauty and its scent during the meal.
Equally important are both the buffet table and the snack bar decorations, around which the guests will gather to taste food and drinks. Also, you want to make sure that every single accessory is carefully disposed next to the flowers: vases, glasses, fruit and cake stands, baskets, candle holders, lanterns, candles, cloths, etc. Every item will add a personal touch, helping you build the perfect atmosphere for your wedding reception.
Finding the right composition is key: the wedding centerpieces should also match the decorations chosen for the Church and, most of all, the bridal bouquet. Oh! And don't forget: candles are a must-have!
Usually flowers are very important in wedding ceremonies and receptions, even if nowadays more and more couples are opting for different solutions, for example if someone is allergic or just doesn't like them. Moreover, a flowerless reception would surely help you keep your budget low.
In order to meet every possible necessity and give you the best possible advice to help you choose the perfect wedding centerpiece, I sorted various ideas by theme; just like I did when we talked about wedding table plans.
Candle Wedding Centerpieces
The candle centerpiece is surely the most suitable one for evening receptions: candles will add a romantic touch, creating soft lights and a fairy atmosphere. Be sure you choose your candles according to the season and the reception venue!
Vintage Wedding Centerpieces
In order to plan a successful vintage wedding, every single item you choose for your wedding centerpiece plays a major role and has to convey that extra retro touch to your wedding. This means that you have to carefully arrange everything. Vintage looks can take inspiration from different periods, from the traditional and beloved Fifties to the roaring Twenties or the wild Sixties.
Don't be afraid, any period can be represented!! The important thing is to choose your colours, flowers and decorations wisely and accordingly.
Minimal Wedding Centerpieces
Differently from the vintage centerpiece, the minimal one is more suitable for modern wedding receptions. Minimal is an adjective that represents a very simple, tidy and clean aesthetics, where the less you add, the better it is.
Low-cost DIY Wedding Centerpieces
If you are a creative person and you don't dislike the idea of saving some money (yeah, like, who does?!), then you can think of creating your own DIY wedding centerpieces! But first things first: let's think about the style of your wedding ceremony and reception and choose what you need to buy accordingly.
In order to keep your budget low, you'd better opt for seasonal flowers, that are less expensive. If you don't want to use flowers, go ahead with fruits, candies, veggies, paper, etc.! Use your imagination!
Here you can find several chic and creative ideas to inspire you along the process:

Candles are okay too: big and decorated with pretty leaves or small white flowers. Or floating candles matching with cherries, rocks or sand inside beautiful glass containers.
If you'd like to dare and realise something really unique and completely hand-made, what do you think about a wedding centerpiece made of waste material like, for example, stoppers? That would be just perfect for a wine-themed wedding! Otherwise, you can create airplanes, origami or pinwheel centerpieces. Trust me, the result will be great!
Shabby chic Wedding Centerpieces
Shabby chic sure is the most romantic style. Along with vintage looks, is one of the most popular and used themes when it comes to weddings and ceremonies.  Even if at first glance it can give the impression that everything is quite modest or messy, don't get fooled: actually shabby chic decorations require a lot of planning and care.
The overall atmosphere is reached thanks to small details and careful arrangements, like the use of specific colours: pastel colours are a must.  Thumbs-up for beige, ivory, dove grey, grey and white. You could also decorate your furniture with old porcelain, vintage-looking multi-coloured dishes and flowers. Laces and crochets are always welcome!
Among the furniture elements that best convey a shabby chic look, are also tinwares and cans. You can easily find them strolling through flea markets. Last but not least, flowers. Delicate colours are the best choice, so go ahead with roses, camellias, hydrangeas, and a few bunches of lavender. Still looking for that extra final touch? Well, DIY items will make your shabby chic centerpieces and decorations really unique.
Creative Wedding Centerpieces
Do you want to opt for something really unique and untraditional? You have to be creative and work with your imagination, but… why not? For example, if you set a particular theme it's going to be easy-peasy: fantasy, rock, pirates, cartoons… Here are my suggestions:
Eco-friendly and low-cost Wedding Centerpieces
The idea of cutting a flower stem makes your skin crawl? Replace flowers with fat plants or officinal plants; otherwise you can use fruits. It would be nice to give them to your guests as little wedding souvenirs when the party is over, wouldn't it?
If you don't want to use real plants at all, what about a pretty composition with (recycled) paper, plastic or fabric instead?
Have you already thought about your wedding table names? Read this and get inspired!