Given2 has been conceived to solve a modern problem: create a website for your event and receive the gifts you really wish for, at the lowest possible price!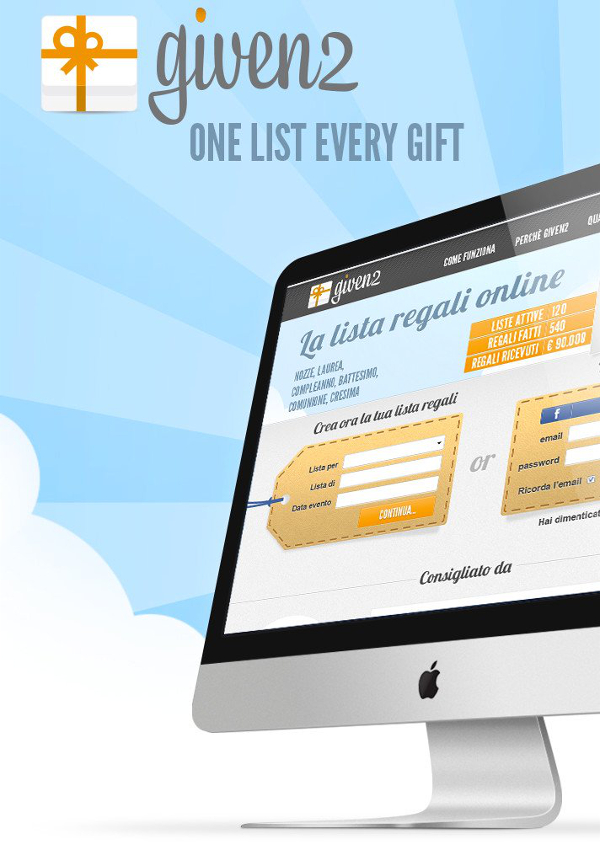 We are a young, modern and dynamic Italian company. Thanks to our quality-oriented approach, we are getting more and more positive feedbacks, and we are very proud of it! Here's one of our users' comment about our service:
"Thanks a lot! Just today, my future husband and I were talking about the value for money of your service. I think it's the best on the market. Also, we like it very much because the website is simple and catchy, and the team support is quick and effective! Oh, and we are glad to support an Italian business!" Sabrina
Given2 is the only online gift list service with which you don't have to pay any commission nor middlemen fees. YOU choose how much you spend. In fact, you have free access to every feature and can start creating the personal website of your event right now! Once the webpage is ready, you can think of enabling the gift receiving service, at only 1€ per day and for how many days you wish for. Apart from that, everything is and will always be free!
Given2 is the cheapest online gift list
Let's make a simple simulation of the costs that our service asks to create a wedding gift list, compared to the average prices of the competitors.
Given2
1. Given2 activation cost for 2 months = 60 € (1 € per day)
2. Gift receiving service cost, simulating i.g. 100 € offered by each guest:
A. via Bank Transfer = 0 €
B. via Credit Card = 1,90 €  to be paid by the guest
Paypal = 3,75 € to be paid by the guest
C. Direct purchase of the gift = 0 €
(i.g. by using the Given2 built-in search engine)
Important: the user receives the money on THEIR bank account, unless he adds to their list products from e-commerce stores. In that case, the guests can directly buy the items selected by the user with no extra costs.
Other online wedding gift lists

1. Activation cost for 2 months = 0,00 euro
2. Costo ricezione regalo, sempre stimando 100 euro a invitato:

A. via Bank Transfer = 3 €   ( 1,8% + 1,15 € )
B. via Credit Card = 3 €  ( 1,8% + 1,15 € )
Important: the money is sent to the company's bank account. The company acts like a middleman, and charges you up to 5€ per gift for transferring the money into your own personal bank account.
Example of a Wedding Gift List  worth 10.000,00 €
Total price using Given2 =

€ 135


(we simulated 80 bank transfers, 14 credit card purchases, 13 Paypal purchases) 
Total price using competitors = from € 240 to € 330
(we simulated 80 bank transfers, 14 credit card purchases, 13 Paypal purchases) 
Given2 offers the best coordinated services
Compared to other online gift lists, Given2 is the only one to have:
A built-in search engine to help you find the gifts you wish for at the best price and add them to your list in just one click;
A whole community: a real social network within the platform, full of ideas and suggestions;
A gift list that can be exported and embedded into any personal webpage or blog, simply by copying and pasting an HTML code;
The possibility for the guests to freely choose how to make their gift: deliver it in person, have it sent by courier, etc.;
Gift lists for any event, not only weddings! Baby shower, Christening, Birthday, Graduation, Raise Funding, Wishlists and so on and so forth ! We don't set limits to your imagination!
Why choose an online gift list rather than a traditional one?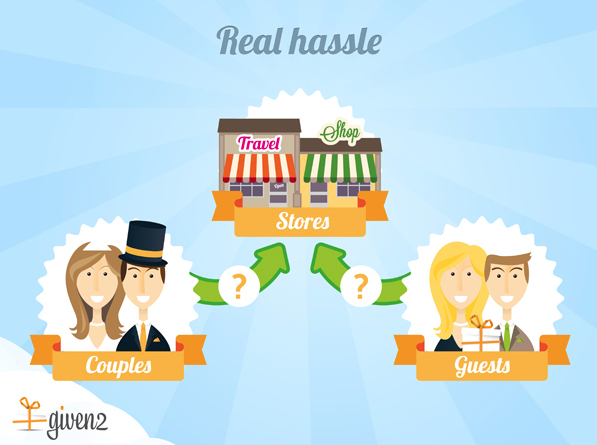 For the same reasons as for online shopping:
Unlimited choice of the products: thanks to the built-in search engine, Given2 helps you find all the best offers on the market! It's so easy to add them to your gift list, then!
Affordable: our search engine helps you save up to 50% discounts on the items you wish to receive. Also, our social network helps you find ideas and advice!
Easy and quick: no travels around, no check-out lines at the cashier. You can add to your list anything you want with just one click, and at the same time you'll be able to keep an eye on the gifts and payments  progress reports.
Time-saving: no timetables, no appointments, no queues. Any time is the right time to dedicate some time to your gift list! It doesn't matter if you are checking your Given2 webpage from home, from the work pc or on-the-go using your smartphone!
No geographical limits: you can communicate with every guest of yours real-time thanks to our messenger service and, of course, you'll receive the gift amounts directly into your bank account, even if your guests are sending you money from abroad!
Safe thanks to our 4 payment methods (read more)
Comfy: the items are delivered where you want, allowing you to save time, gas and energy.
Privacy-sensitive: YOU decide with whom your info is shared.
Given2 is made in Italy!

Last but not least, by choosing Given2 you are supporting the growth of a 100% Italian business – all in all we are not just all about pasta and pizza, aren't we? 😉