Winter Wedding Ideas: Get married on Christmas and New Year's Eve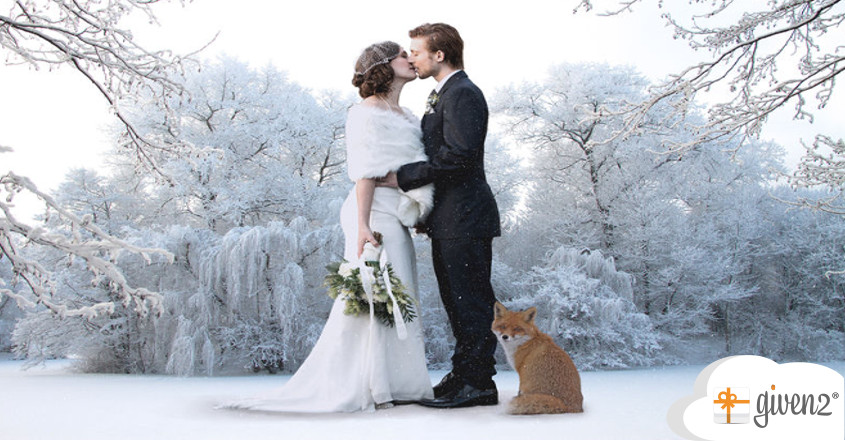 Winter is the most romantic period to get married. From cozy fireplaces to outstanding snow-covered mountain views, you and your guests will be delighted. Make your wedding wonderful by using classy colors like gold, silver, and any shade of red. If you love warm colors, use shades inspired by the winter foliage. Choosing a warm palette will ensure a welcoming atmosphere your guests will enjoy.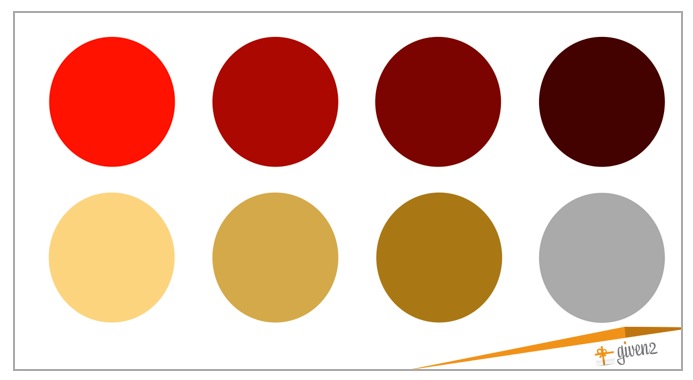 Many color palettes can work in the winter. For those who prefer cold colors, some options that work well for winter wedding decorations include blue, indigo, purple, and pale cream. Another option is to combine warm and cold colors to obtain an elegant atmosphere.  For example, burgundy and pale cream are a great match for a winter wedding reception.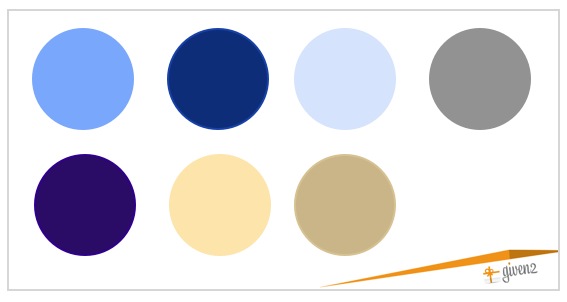 Winter wedding ideas: Decorations
Candles, pendants, lit branches, and pine cones are perfect winter-inspired decorations for winter weddings. Depending on the style of your wedding,  you can use place cards based on winter-inspired elements such as pine cones,  Christmas decorations, and snowflakes.
Images: Janet Howard Studio via Pinterest, Cone pine centerpiece via Pinterest; place cards: Tepido, VENDecor, Decadentdesigns
Winter wedding ideas: Romantic venues
Among the many reasons to get married during the winter holidays, one of them is the romantic atmosphere. Choose between a mountain chalet for a cozy wedding, or a ballroom for a sophisticated ceremony.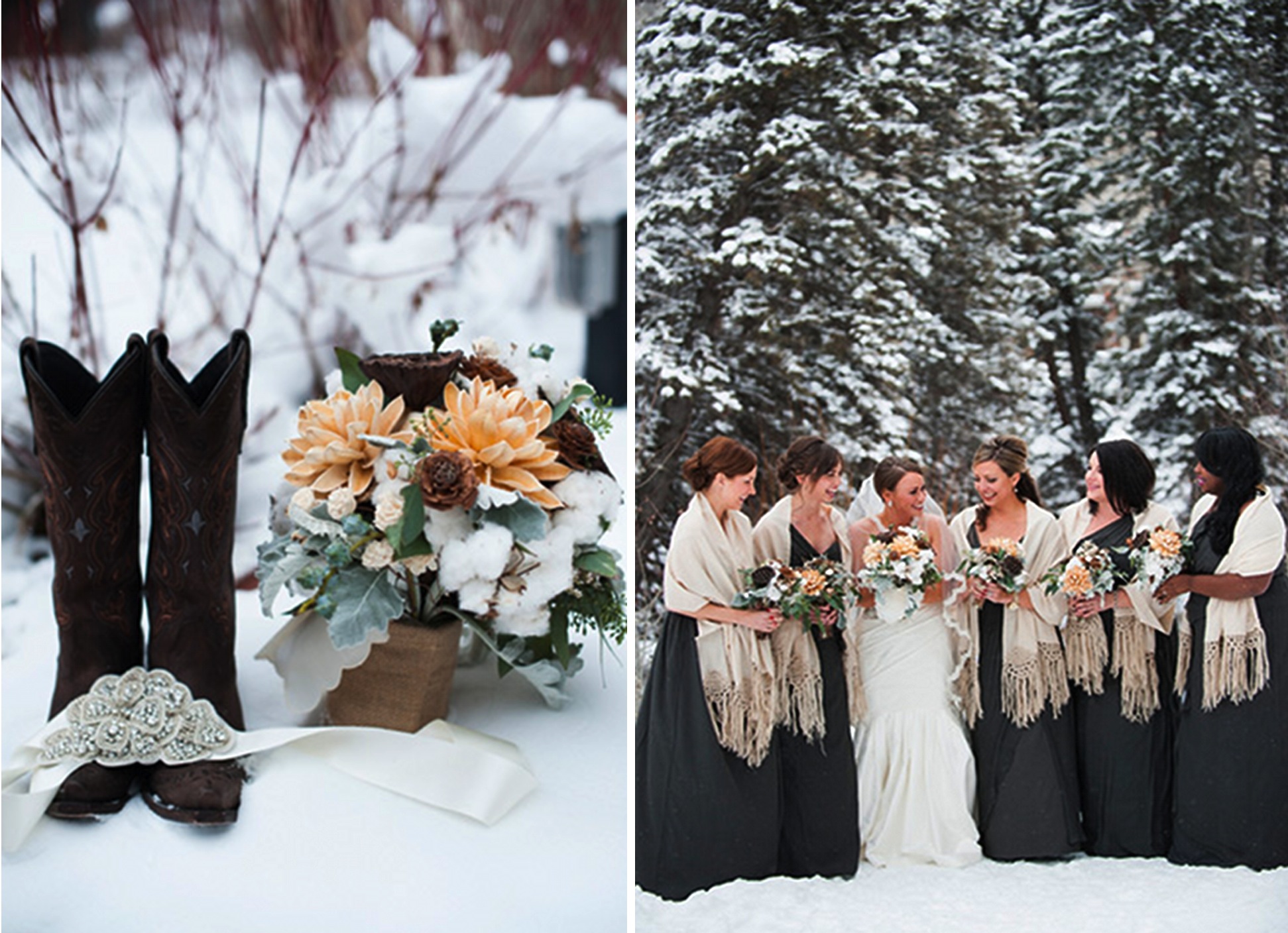 Image courtesy of Brinton Studios / brintonstudios.com
 Since December and January aren't a peak time to get married in most parts of the country,  you could save money on the venue, and get a price reduction.
Winter Wedding Ideas: Guests' availability
During this time of the year many people take time off from work. If you have relatives coming from other states and countries, getting married over Christmas and New Year's will make it easier for them to attend your wedding. It's a great excuse to celebrate all together!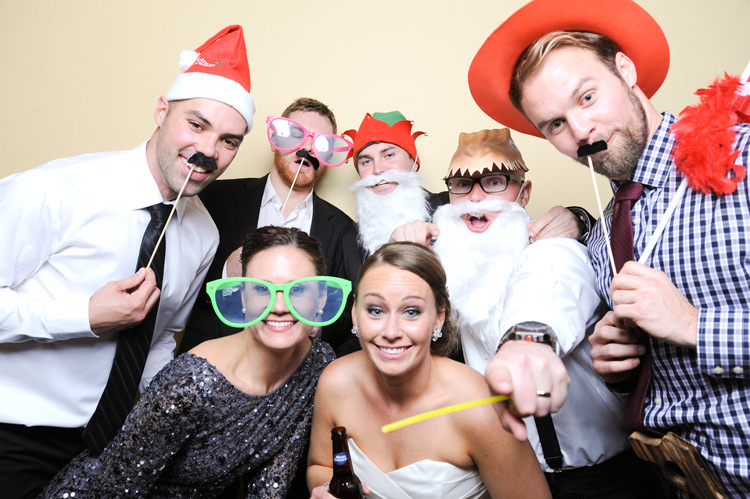 Image courtesy of Brinton Studios / brintonstudios.com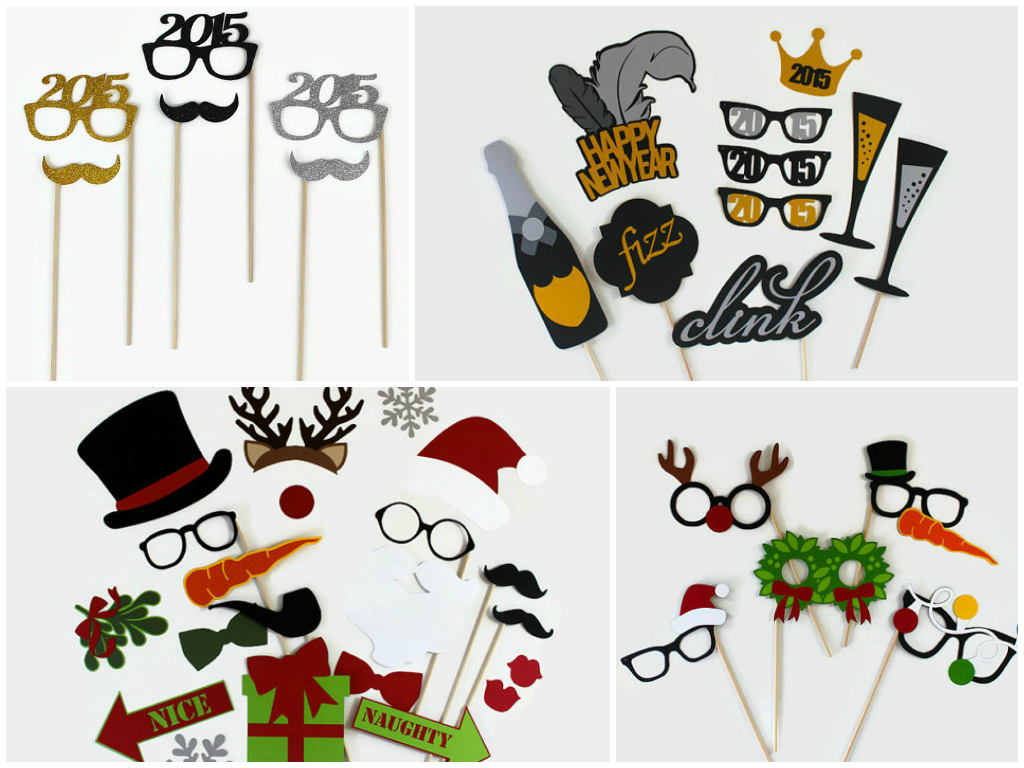 Image: Paper and Pancakes via Etsy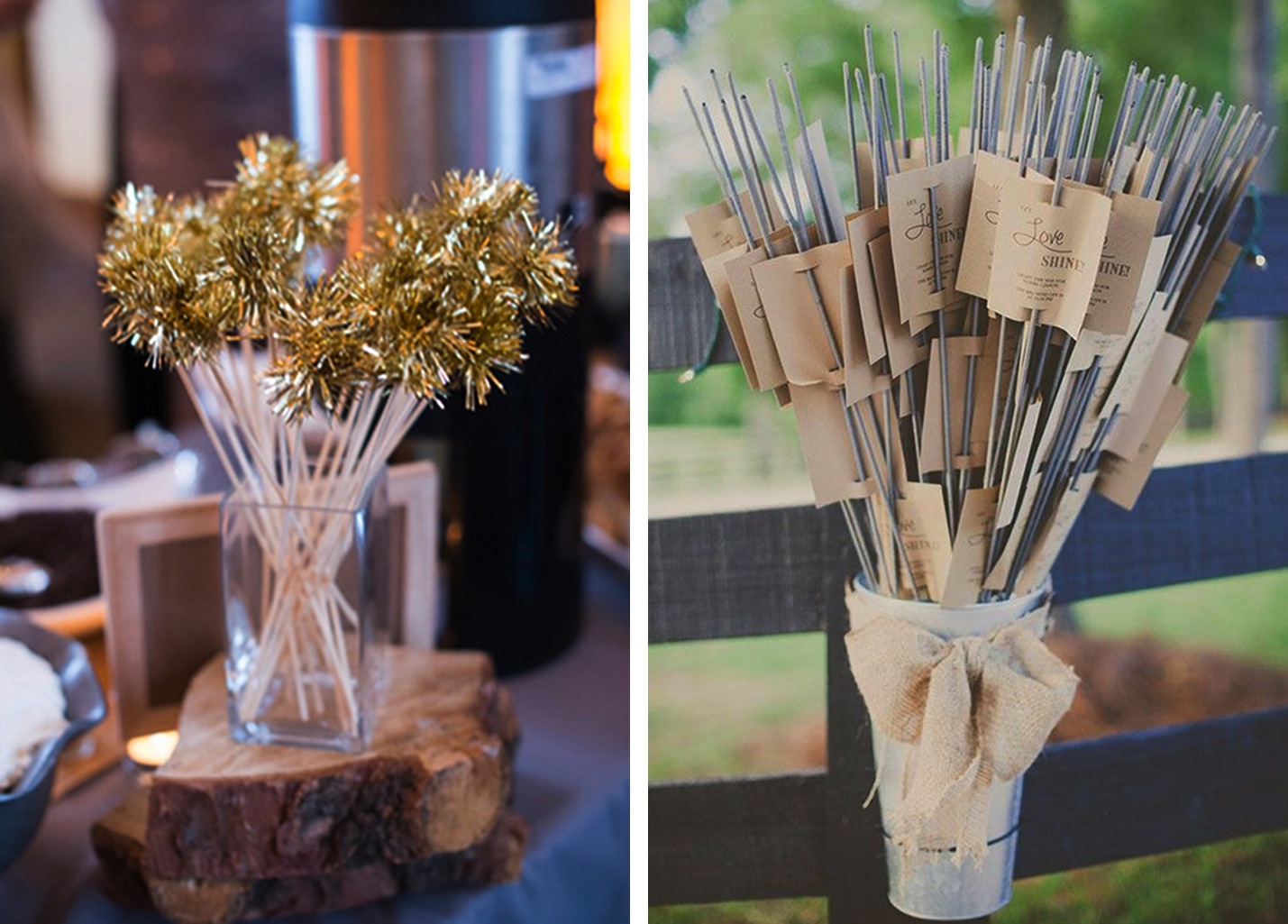 Image courtesy of Brinton Studios – Image via Pinterest
Winter wedding ideas: Favors, wedding gift
Do you need ideas for winter inspired favors? There are many amazing winter wedding ideas and favors, from pine plants to snow globes, shiny small bottles of champagne, and delicious handmade truffles.  For example, if you choose Christmas ornaments as wedding favors, you could hang them on a Christmas tree.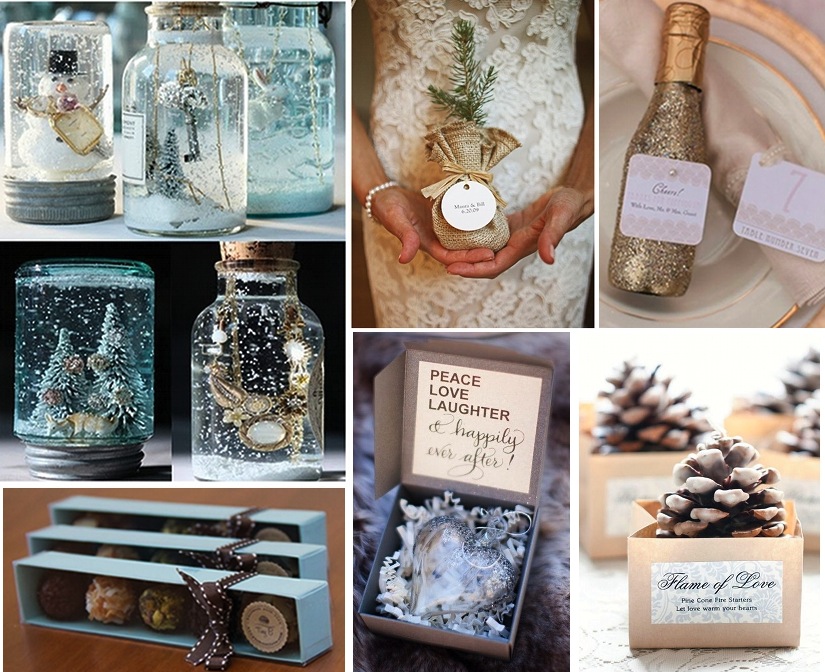 Images: elegantweddinginvites.com via Pinterest; weddingbells.ca via Pinterest; bridal guide via Pinterest; intimate wedding; intimateweddings.com via Pinterest; tinybchocolate.com
Winter wedding ideas: Invitations
Make sure your invitations are winter holiday inspired. Both sparkles and snowflakes work well for winter inspired invitation cards.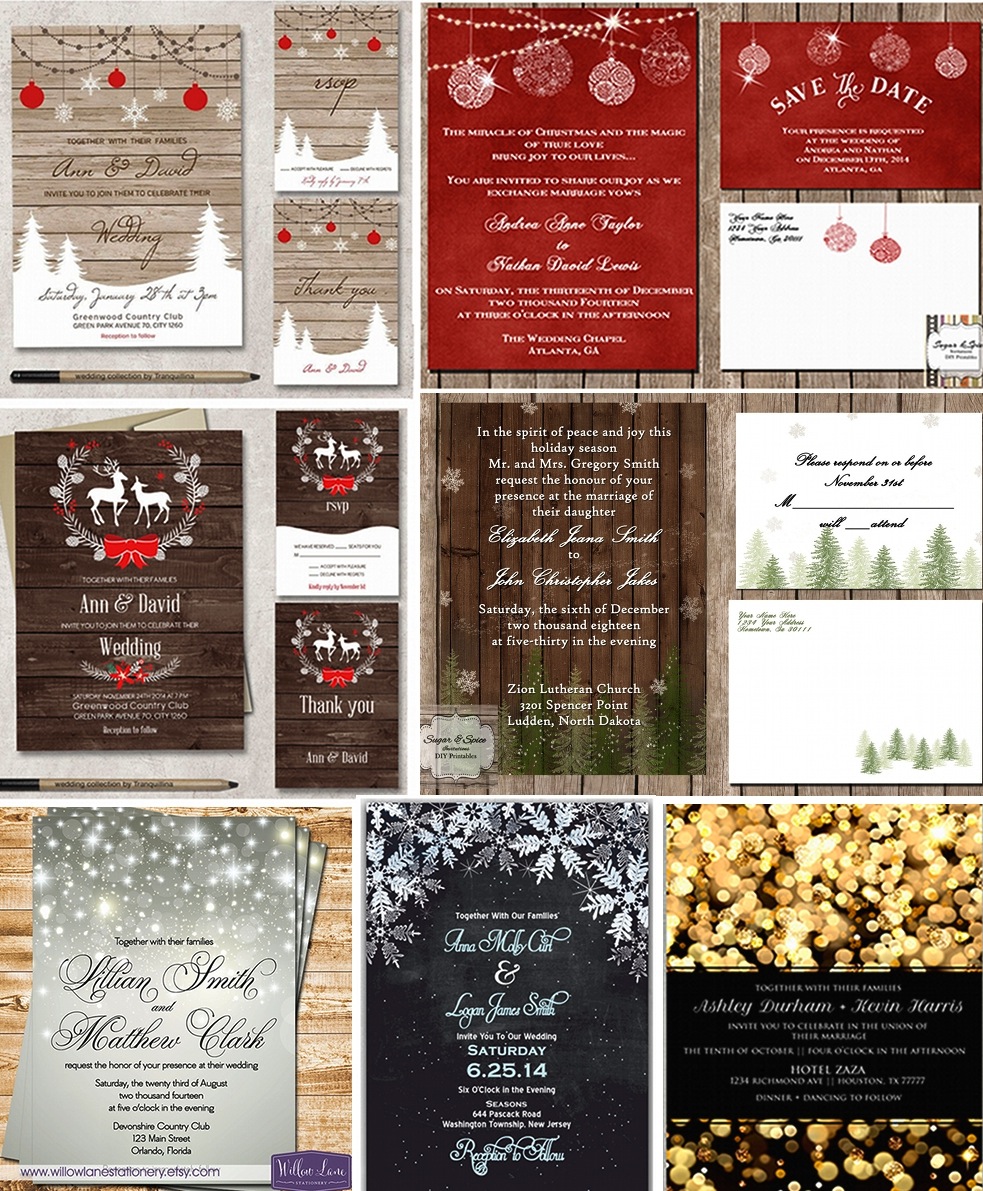 Images via Etsy: Tranquillina; Sugar and spice; WillowLaneStationery; TreasuredMomentsCard; MemoryLanePaperie
The 5 Ultimate Themes for your Winter Wedding
We chose for you the best selection of winter wedding themes. Let's see them together, shall we?
Winter wedding: Halloween theme
If you sympathize or identify with particular underground cultures such as dark, punk, gothic, etc., what better time to get married than in October or November, when Halloween is near?
To speak the truth, this theme takes inspiration from the very original winter wedding planned by a couple of former Given2 users. That's right: our online wedding list addresses to every one of you, especially non-conventional couples, so… how could we have possibly missed a gothic-dark wedding registry? Said couple (two Genova artists) decided to use Given2 as a crowdfunding wedding list. Which is a great idea, and in their case helped them finance their activity!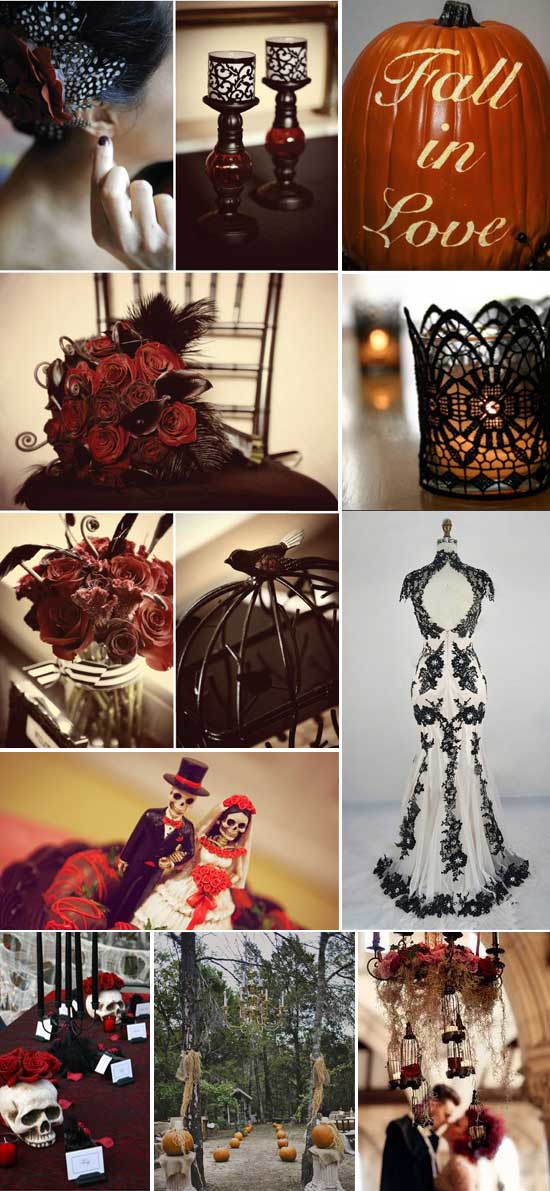 If you are in search of the perfect Halloween wedding inspiration, I think the best suited idea is definitely Tim Burton's "Corpse Bride"!  Have you watched it? We loved it! If you did too, then you might as well choose this movie as main theme for your big day!
Another suggestion is to take inspiration from Avril Lavigne's style and outfits. The best colors for an ideal Halloween wedding theme are black, purple, burgundy red, blood red, and orange, which makes us think of pumpkins! Oh, and candles are a must-have for your reception. You could also enjoy creating a Victorian-style atmosphere with laces and everything, in order to really impress your guests!
Winter wedding: Christmas theme
If you have chosen Christmas time to tie the knot, I highly suggest you opt not only for the color white, but also for silver or golden! The result will surely be classy and chic.
Although you'd better keep in mind that Christmas means also… everything is red! If you don't want to overdo it, just place some red details around the reception room, even better if next to pine branches or similar ornaments and decorations. In fact, together they create a cozy and a welcoming atmosphere.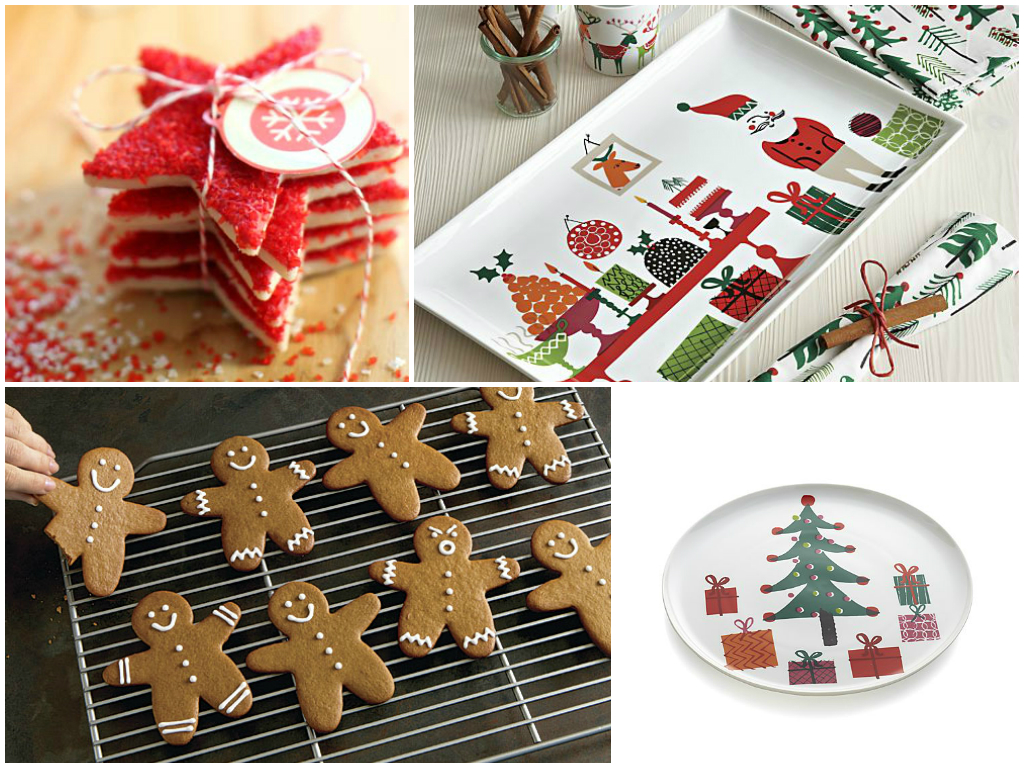 If you happen to be an eco-friendly couple, a great idea could also be that of replacing the traditional wedding favors with little pines or plants, which your guest can try and make grow at home, always remembering your very special day.
If you plan to get married during this particular time of the year, you could also enrich your wedding buffet with marvelous delicacy linked to Christmas!
As regards floral decorations and bouquets, my advice for you is to go for roses,  hawthorns, pine trees and butcher's-brooms, everything adorned with elegant Christmas ribbons.
Winter wedding: New Year's Eve
Well, let's be honest here: everyone likes to dress up and get extra fancy for a wedding. And since the same happens at New Year's Eve… you'd better be prepared, because your NYE wedding will be OVER-THE-TOP!
Our advice is to add some butcher's-brooms into your bridal bouquet, and, of course, to kiss your other half right not only at the altar, but also under the mistletoe! So, what about a big, long, combined at-the-altar under-the-mistletoe kiss? Wouldn't it be just marvelous? We think it would!!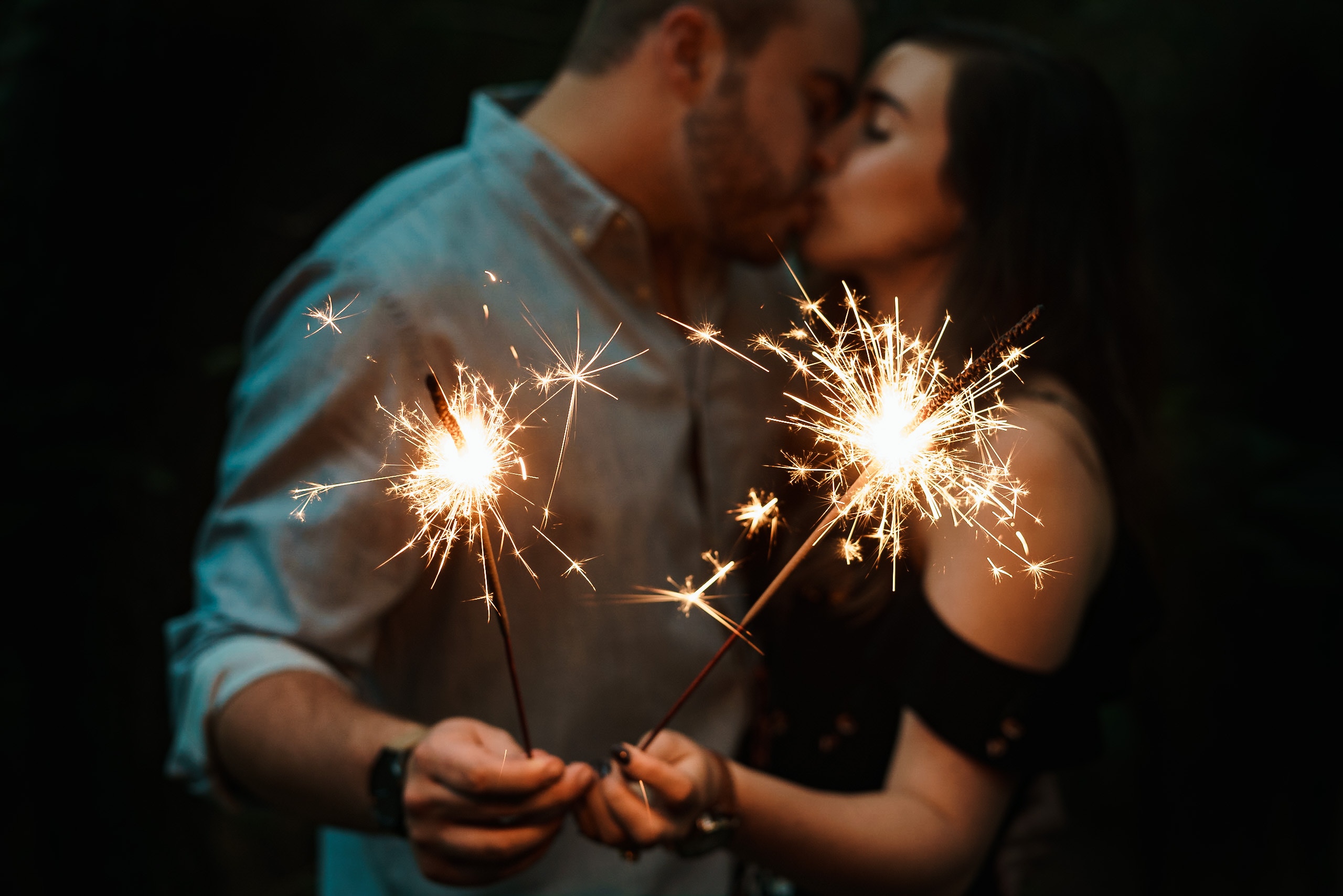 Regarding the best colors for your NYE decorations, we'd go for white, black, and golden. Moreover, don't forget that a NYE bride must add something red to the list of all the other "s
omethings" she'd wear! (And you do remember all of them, right? Not sure? Well, here they are: something old, something new, something borrowed, something blue!).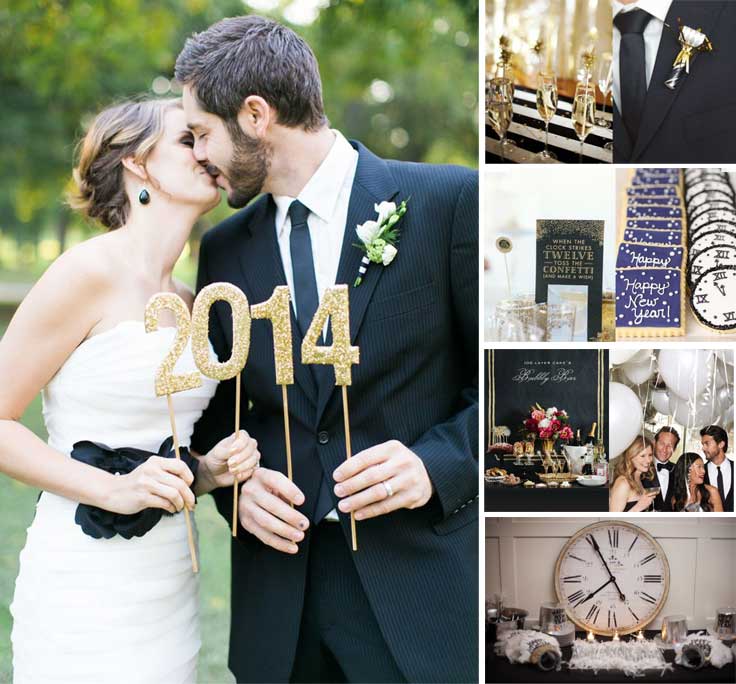 Last but not least, make sure that the wedding cake cutting happen at the same time as the traditional New Year's Eve midnight toast!
Winter wedding: Saint Valentine
More and more people nowadays get married on 14 February – St. Valentine's Day. In fact, when you think about it, which day could possibly be more suitable to celebrate your endless love than the international day of love itself?!
No doubts, in this case, on the main color of your ceremony… LOVE RED! Since white is the must-have color of every wedding, just match it with red in order to create the perfect St. Valentine's wedding combination. We do suggest you use different shades of red though (cherry red, strawberry red, light red, pink red, shocking red, etc.), so that the overall impression won't be "too much" to handle for your guests' eyes!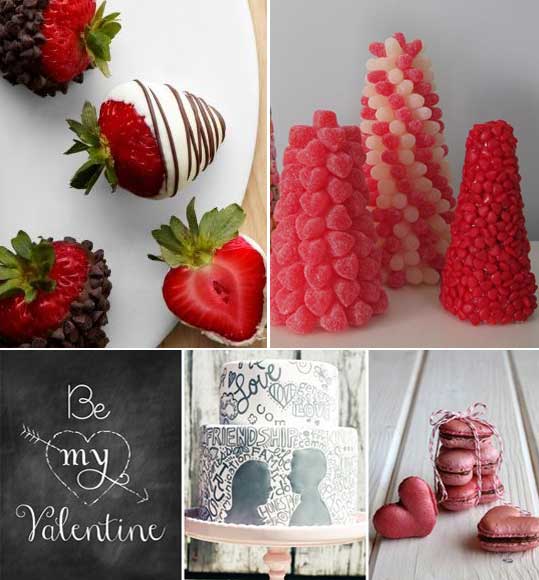 Of course, heart-shaped decorations are the most popular when it comes to both weddings and St. Valentine's Day, and we do love them, but please don't exaggerate! Instead, why don't you opt for romantic red and white balloons?
Furthermore, red could also play a major role in your wedding participations, or in the packaging of the party favors that you'll prepare for your guests!
Our last suggestion deals with your wedding dress-code: red lipstick for the bride-to-be, and red socks for him, or a red flower as boutonniere! Last but not least, what about the guests throwing red petals instead of the traditional white rice after the ceremony?
Winter wedding: Carnival
If you are getting married in February, have you thought about a Carnival-themed wedding? You could totally plan a disguised reception party… or why not, even a masked ball! Wouldn't it be amazing? Without a doubt, a lot of unconventional couples will be excited to organize such an event 😉
Moreover, masks can be matched with several types and styles of fabrics and pieces of clothing, starting from a very traditional wedding dress and onwards, up to more modern or sexy versions of the perfect bride-to-be! As regards the groom, he could wear a vintage-ish suit, perhaps an eighteen-century outfit, or even a Venice-inspired look!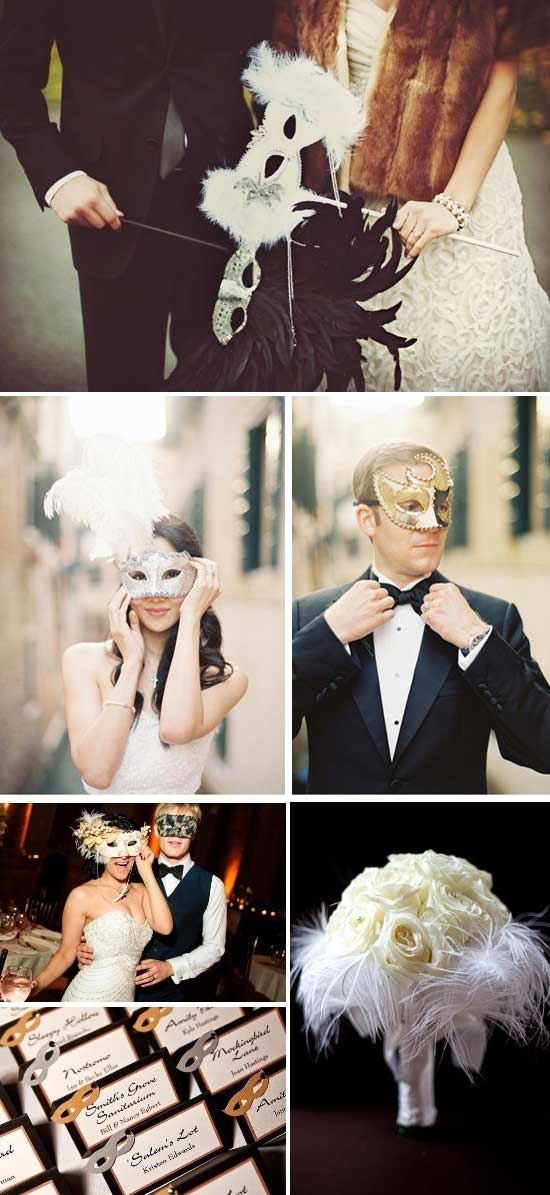 This said, if the two of you are getting married in a church, wearing masks at the altar would most probably be seen as quite inappropriate, but do not fear my dear: there are plenty of Venice carnival masks (Colombina, Bauta, Volto…) that you can easily put on the way out, to catch just the right picture of your Carnival wedding!
And should you need some further ideas as regards wedding decorations, just keep in mind the few following keywords: colors, feathers, masks, confetti!
What? You'd like to know which is the best venue for a wedding like that? Well, Venice, of course!!! You could also show up on the scene aboard a romantic gondola… just think about that! How magical, how unique could a "bridal gondola ride" make your wedding day?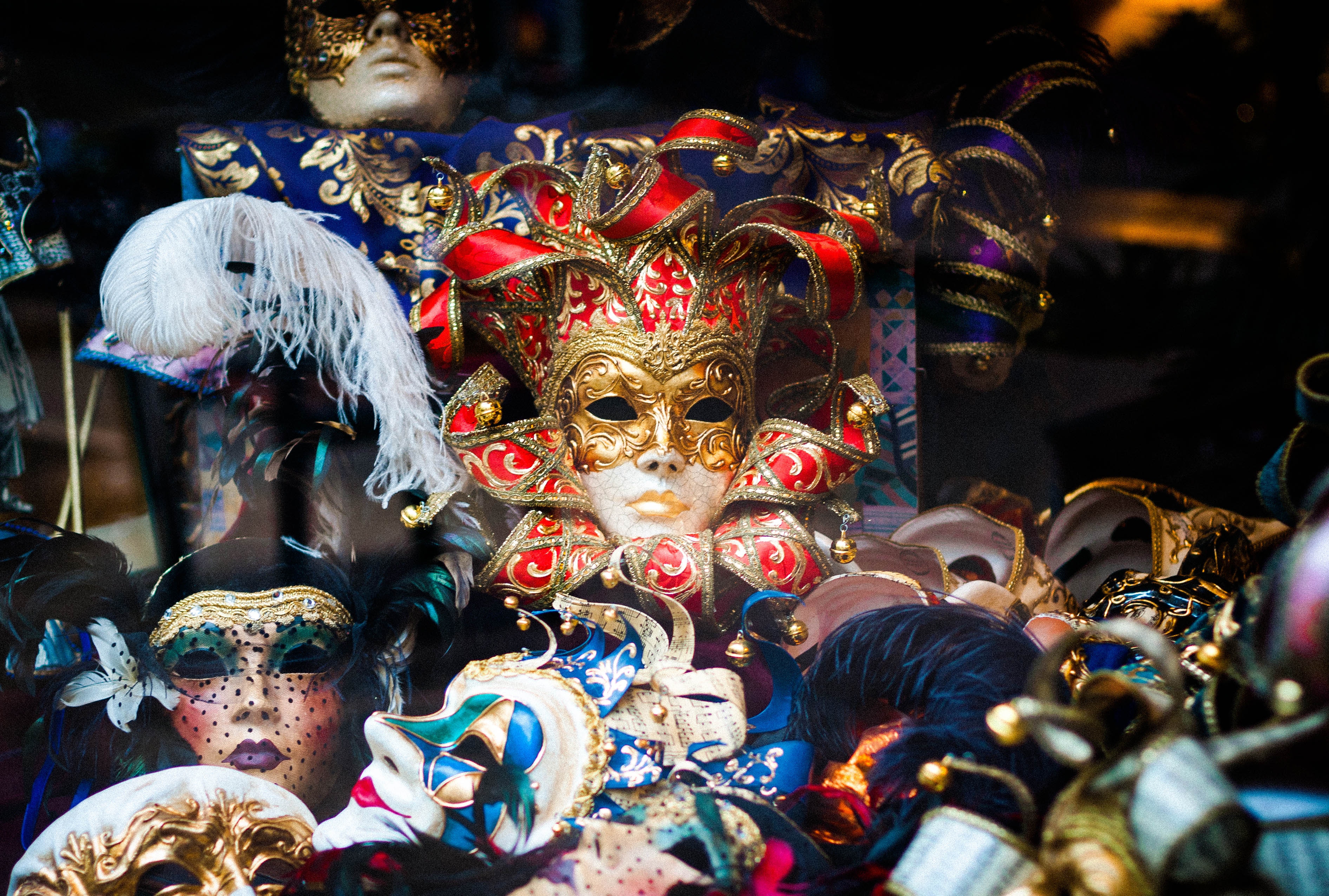 I hope you get inspiration from our winter wedding ideas. Let us know which one is your favorite!